A teenager undergoing chemotherapy has been inundated with photographs of half a million virtual therapy dogs from well wishers across the globe.
Anthony Lyons, 16, was diagnosed with acute lymphoblastic leukemia in 2014, and has since spent large periods of time undergoing cancer treatment at Phoenix Children's Hospital.
To help cheer him up, and because he became visibly happier after spending time with the hospital's therapy dogs, family friends set up a Facebook page inviting people from across the globe to share photos of their pooches - and, occasionally, cats.
SEE ALSO:

Miniature Horses Provide Therapy For Sick Children At Chicago Hospital

This Talented Granny Going Through Chemo Knitted Herself A Head Of Hair
Therapy dogs are specially trained to provide affection and comfort to people in hospitals, retirement homes, nursing homes, schools, hospices and disaster areas.
Seeing how much the therapy dogs meant to Anthony, family friends Roberta Lucero-Koron and Ro Joe set up the Facebook page encouraging internet users to post pictures of their dogs and share loving messages to cheer the teenager up during his grueling treatment.
Since then, the page - which was set up as a Facebook event - has gained over 1.2million guests, with half a million photographs posted on the feed.
Story continues below...
On 4 January, Anthony's mother, Roberta Lyons wrote on the page: "God bless you and God bless the world wide web.
"Anthony is smiling joyfully because of you. One thing I have to say is make yourself smile too by looking at these beautiful animals that God gave us. I can't stop crying from tears of happiness."
Meanwhile Anthony told KSAZ: "When I'm in the hospital bed all day, my mom goes through the pictures. She'll show me them all, the special ones are the funniest."
The family are also hoping to raise money for Anthony's treatment through GiveForward. They've now raised over $14,000.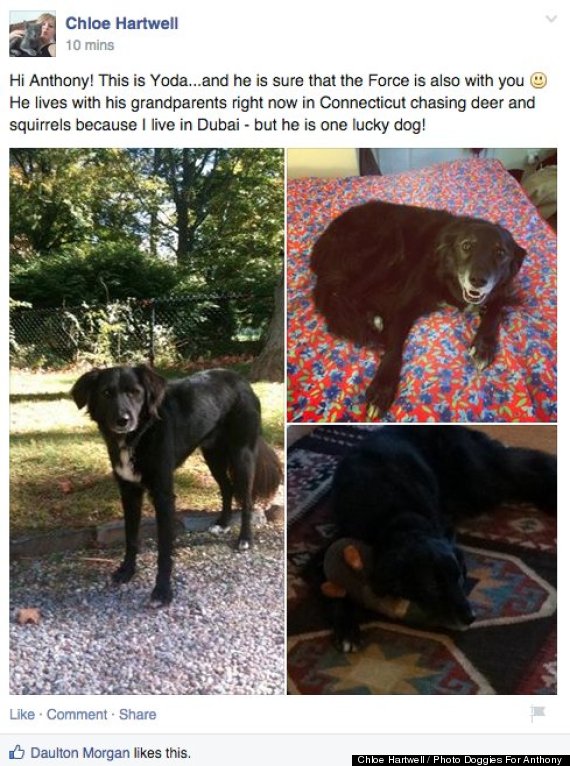 [H/T Daily Dot]