After being forced to quit as a Ukip general election candidate over offensive remarks about "poofters" and "chinkys", Kerry Smith is expected to announce he will stand for parliament as an independent.
Ukip said in response to the BBC's report that Smith was "entitled to stand" as an independent candidate for Basildon and Billericay, and was "his own man".
Smith, a member of both Essex County Council and Basildon District Council, quit last year as Ukip's candidate in the top target seat after a recording of controversial remarks he made in phone calls was passed to the Mail on Sunday.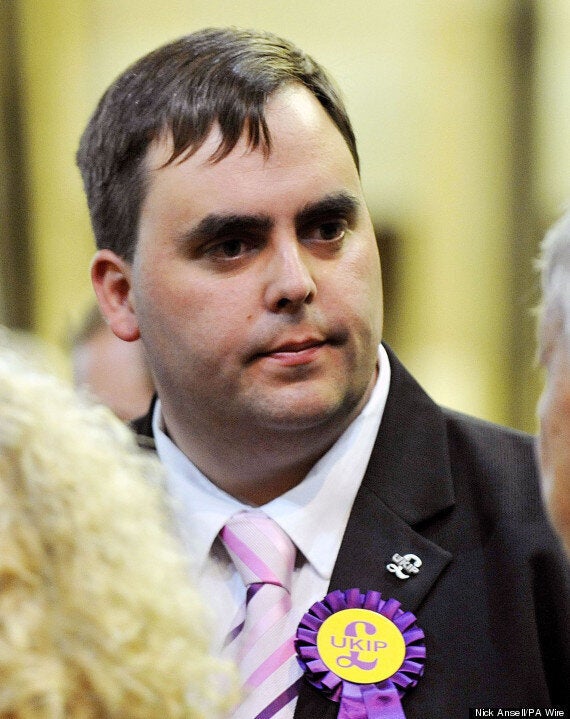 Kerry Smith, the Ukip general election candidate has apologised for making a string of offensive remarks
Farage said that Smith was "not suitable" to be an MP, but accused his critics of being snobbish.
"I'm a bit sad, because Kerry Smith is a rough diamond. He's a council house boy from the East End of London, left school early and talks and speaks in a way that a lot of people from that background do," he said. "I feel a bit sorry for Kerry Smith, because I think he's a genuine fellow."
Smith had previously suggested that he had been under great stress at the time of the comments and taking strong pain killers.
"I wish to issue a wholehearted and unreserved apology to those I have offended within the party and anyone else," he said after his words - which he said were from two-and-half years ago - were made public.
In a bid to explain his behaviour he noted that "at the time of this recording I was considering my resignation due to major management changes which I have since discovered I completely misread and misunderstood".
"For the record I was also on a strong morphine based prescription medication for a back injury."
He also accepted that claims he made in the calls about party leader Nigel Farage and other senior figures were "completely wrong" and "fuelled by frustrations at the time".
Smith was deselected as the candidate for South Basildon and East Thurrock in October - with Neil Hamilton, the former Tory minister who is now Ukip's deputy chairman, the most prominent of those in the frame to take the nomination.
But Hamilton ended up endorsing the Essex county councillor in his hustings speech after Smith was reinstated - leading the ex-Conservative to lash out at party insiders over a "dirty tricks" campaign being run against him.
His tirade against the "cancer at the heart of Ukip" came after a letter from the party's finance committee about his expenses claims was leaked.
Hamilton called for the party's national executive committee (NEC) to take action against those involved in the "black arts of selective briefing, misrepresentation and outright lies".