Plus-size campaigners are less than impressed by a weight loss expert's suggestion that today should become national 'Warn A Friend They're Fat Day'.
TV weight loss guru Steve Miller designed the controversial annual day to tackle Britain's obesity problem. The presenter of Fat Families claims the initiative could save thousands of lives.
But SLiNK magazine, the first ever plus size print publication in the UK, has launched a counter campaign along with fashion blogger Kate London-James called Tell A Friend They're Fab (#YouAreFab).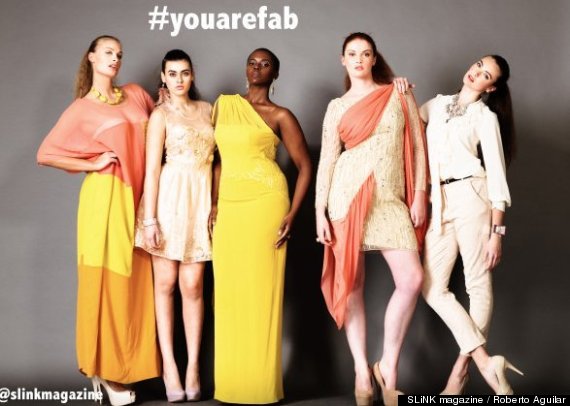 Speaking to the MailOnline, Miller said: "I know that the word fat sounds harsh but when you use that word, people take notice - if you wrap the issue up in cotton wool, it doesn't work.
"This day is about saving lives, it is absolutely not about humiliating people."
But blogging on HuffPost UK Lifestyle, editor of SLiNK magazine Rivkie Baum points out that if a person is overweight, they probably already know.
"They are told it everyday by the likes of Katie Hopkins, men in white vans and general passers by," she says. "Fat people are reminded as they walk along the street, past store windows and stores they can not shop in."
SLiNK magazine is encouraging both men and women (of any size) to tell a friend why they're great and post their compliment on social media along with the hashtag #YouAreFab.
The movement aims to promote body confidence, rather than destroy it.
We're inclined to agree with Baum who says 'Warn A Friend They're Fat Day' ignores some of the underlying issues that may be the cause of obesity.
Many people's eating habits can be related to mental health issues and Miller's campaign risks making such conditions worse.
"Binge eating is as much of a mental health issue as anorexia and bulimia," Baum writes. "Brushing these issues under the carpet is dangerously naive."
SEE ALSO:

SLiNK Is The First Plus Size Magazine In The UK - Is It Putting Women Into Yet Another Box?

WATCH: It's Time To Talk About Body Image Issues For Men
But Miller believes the #YouAreFab counter movement is more "dangerous" than his.
"The fat acceptance brigade are in my opinion dangerous, because what they are saying is you are okay to be fat and fabulous. That is completely wrong in my opinion," he told the MailOnline.
"You are basically saying to someone, stay fat and you might die early and that is fine. That is wrong."
In response to Miller's accusation that #YouAreFAb is dangerous, Baum told HuffPost UK Lifestyle: "Fat acceptance is not dangerous, treating people with respect is not dangerous, listening and accepting how someone wants to live their life is not dangerous.
"SLiNK doesn't tell people to lose or gain weight we simply create a space where we don't judge you and we try to build confidence in all areas.
"If your friend wants to lose weight they will ask for your help, just make sure you're ready to help and be supportive if they do."
We know which campaign we prefer.