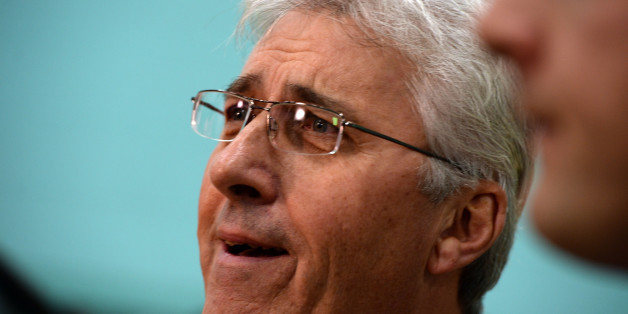 Nigel Roddis via Getty Images
One of Ukip's most prominent candidates has caused a social media stir by suggesting that the Charlie Hebdo terrorist attack means that it is "time for Ukip" to come to the fore.
John Bickley, who is standing in Heywood and Middleton, quoted George Orwell to show his and his party's stance on "democracy", "free speech" and "liberty", adding: "Time to take a stance. Time for Ukip."
The Paris atrocity shows that democracy & free speech are under attack. Time to take a stand. Time for @UKIP pic.twitter.com/Tr94zyF5OV

— John Bickley (@JohnBickleyUKIP) January 7, 2015
The Charlie Hebdo massacre, which resulted in 12 deaths, shook the French nation and drew sympathy worldwide, as people physicially and virtually put on displays of solidarity.
Bickley's tweet sparked a furious backlash online as Twitter users, with one noting: "Ukip also seem fond of resorting to bullying their critics."
@JohnBickleyUKIP does ukip freedom of speech still extend to "chink"? What about other abusive words..your party love your freedom to offend

— Belfast Barman(ager) (@belfastbarman) January 7, 2015
@JohnBickleyUKIP #UKIP also seem fond of resorting to bullying their critics. Some #FreeSpeech http://t.co/Qvj0WvDDyh

— Fifthcolumnblue (@Fifthcolumnblue) January 7, 2015
However, Bickley appeared to be unshaken by the negative reaction to his tweet, telling one user: "It's called free speech, get used to it."
@belfastbarman yes I do; it's called free speech. Get used to it.

— John Bickley (@JohnBickleyUKIP) January 7, 2015
CHARLIE HEBDO:

Hostage-Taker Screamed 'You Know Who I Am' As He Took

5 People Captive

Charlie Hebdo Siege Witness: 'I Met A Terrorist And

Shook His Hand'

MI5 Boss Warns Khorasan Group In Syria Is Planning

Atrocity For The West

Paris Flights Diverted Amid Standoff With Charlie

Hebdo Shooting Suspects

#JeSuisJuif: Twitter Rallies Behind Jewish Targets Of

Paris Terror Attacks

Cartoonists React With Pen And Paper

Graphic Footage Captures Gunmen Murdering Policemen
Bickley is no stranger to controversy, having accused Labour of facilitating the child abuse scandal due to their "love of immigration."
This comes after Ukip leader Nigel Farage was accused of 'politicising the Charlie Hebdo attack', after he lashed out against the "fifth column" of people - immgrants who "hold our passports, who hate us".
Meanwhile, David Davies, a Tory MP, was accused "legal illiteracy" and not understanding "what it means to live in a liberal democracy" after using the Charlie Hedbo terrorist attack to promote his party's election pledge to abolish the Human Rights Act.
Once helped arrest Taliban member in London-told to let him go. scrap HumanRightsAct & stop these ppl coming http://t.co/ai6rcG9H9R

— David Davies MP (@davidtcdavies) January 8, 2015
Writing on his website, Davies argued that "under current laws, including the Human Rights Act, anyone can come to the UK and make a claim for asylum."
The MP for Monmouth in South Wales said: "The tragic terrorist attacks in Paris should be a wake up call.
See more on the 2015 General Election here