You might not expect a charity to make a video about a child's penis going viral. But here it is.
The animated film shows a little boy, Sam, taking a picture of his friend Alex's penis and laughing about sending it to their friend Katie using a service like Snapchat.
Katie thinks the willy picture is hilarious. She screen grabs it and sends it to her friends, who send it to their friends, and pretty soon the whole of Alex's school has seen his penis, and is laughing at him.
As the video's tone turns dark, Alex gets bullied about the picture and is contacted by a man he's never met.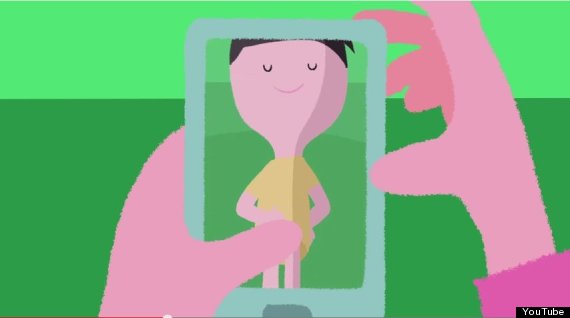 The little boy's nude picture is shared widely online in the video
The video was made by children's charity NSPCC in an attempt to remind parents to keep kids safe online.
It asks them to be "Share Aware" and tell their children that while sharing in general is nice, sharing nude photos of themselves on the internet is most definitely a bad idea that can have serious consequences.
READ MORE:

Online Child Abuse Images 'Should Leave Us All Feeling Guilty'
Many people have been sharing the video online with the hashtag #ShareAware.
"@NSPCC: Everyone's talking about Alex's willy. Have you seen it? #ShareAware

https://t.co/fo2MnTJURN" - simple & effective

— Michelle Dunn (@mdunn37) January 9, 2015
Just watched @NSPCC's "I've seen Alex's Willy" Video have you? http://t.co/qAXujFe6Gy #ShareAware

— Fay Ripley (@FayRipley) January 9, 2015
Please #FF & Support our friends @NSPCC

If you're worried about a child (UK) call 0808 800 5000

#ShareAware pic.twitter.com/PesWUb14Ks

— #stopchildabuse (@helpspreadthis) January 9, 2015