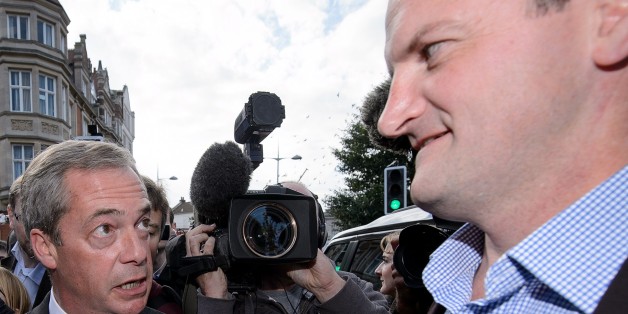 LEON NEAL via Getty Images
Ukip MP Douglas Carswell has called for more money to be spent on the NHS in order to cope with an ageing population.
The former Tory MP's message marks a change in tone in Ukip's health policy, after party leader Nigel Farage previously told the Daily Telegraph that it would be "ridiculous" to protect the NHS from spending cuts.
Speaking on the Daily Politics, Carswell, MP for Clacton, said: "I think we are going to have to spend more [on the NHS], we are going to have to spend more as a society, for the simple reason that people are living longer, technology means that we can spend more, invest more in health.
"People expect better healthcare and they're not getting it and they're going to have to have more of our resources as a country spent on healthcare."
Ukip has dismissed suggestions that Carswell was not representing the party's thoughts on the NHS, insisting that the party agreed on the need to increase spending, while finding savings in the health budget without making frontline cuts. A spokesman told HuffPostUK: "It's uncontroversial that with an ageing population we're going to have to spend more."
The spokesman denied that the Carswell's latest comments mark a shift leftwards by the party, insisting: "It's where the country is at."
UKIP fighting for the NHS -> Douglas Carswell backs NHS funding boost http://t.co/p4nuL1r0wS

— Michael Heaver (@Michael_Heaver) January 12, 2015
Carswell's comments come after senior Ukip figures have taken pains to dismiss suggestions that the party wants to open the NHS up to further privatisation.
See more on General Election 2015
Nigel Farage has previously called for corporations to be allowed to "run the National Health Service and streamline it", telling the Telegraph: "I genuinely do think, when you... occasionally hear of a big businessman that says he'd like to run the National Health Service and streamline it, and get better value for money, I think that's the approach we've got to take."
"If you're going to cut government spending," the party leader made clear as he hosted a phone-in with the newspaper's readers, "you have to decide where those cuts are going to come."
Critics have lambasted Ukip over their health policy. Tory MEP Sajjad Karim told the Huffington Post UK: "Sadly Nigel Farage will say anything to anyone on anything. They have no coherent policy and much of it is opportunistic and decided upon which way the wind is blowing."
Ukip has previously dismissed suggestions that it wants privatisation and "even deeper cuts" to the NHS as "Labour lies". However, deputy leader Paul Nuttall once wrote that the "very existence of the NHS stifles competition".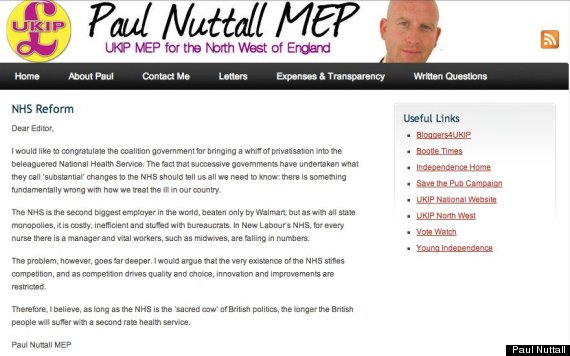 Arguing that it was "not fit for purpose in the 21st century", Nuttall went on to congratulate the coalition for "bringing a whiff of privatisation into the beleaguered National Health Service".
Labour lies: NHS edition. pic.twitter.com/ds1kzLaTSR

— UKIP (@UKIP) October 3, 2014
Meanwhile, former Ukip economics spokesman Godfrey Bloom has suggested charging people to visit their GP. Speaking to the Guardian, he insisted: "It's not free! We all have to pay for it."