David Cameron is meeting intelligence and security chiefs to discuss Britain's response to the terror attacks in France, amid cries from civil liberties groups that the Charlie Hebdo massacre should not be an excuse to increase surveillance on ordinary citizens.
After joining French president Francois Hollande and more than 1 million marchers on the streets of Paris yesterday in a unity rally in memory of the 17 victims, the Prime Minister pledged to introduce "more comprehensive" powers to monitor terror suspects in the UK.
He said Britain is facing the same threat as France from what he described as "this fanatical death cult of Islamist extremist violence", adding: "We have to confront it in our own country, keeping our security strong but also taking on this poisonous narrative that is radicalising young minds, wherever we find it."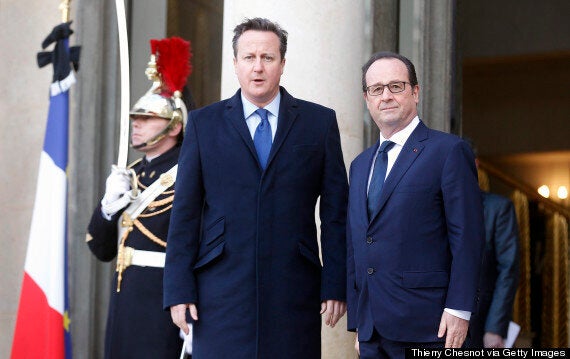 French President Francois Hollande (R) welcomes British Prime Minister David Cameron at the Elysee Palace
Plans for a communications data bill - branded a "snooper's charter" by critics - were blocked by Liberal Democrat opposition, but Conservatives have signalled they will revive the legislation if they secure an overall majority in May's general election.
Speaking in Paris following the march, Cameron promised to implement tougher new rules if he is still prime minister when present laws are renewed in 2016. "We do need to modernise our rules about interception," he told ITV News. "I think we cannot allow modern forms of communication to be exempt from the ability - in extremis, with a warrant signed by the Home Secretary - to be exempt from being listened to. That is my very clear view and if I am prime minister after the next election I will make sure we legislate accordingly."
Civil liberties campaigners warned against any attempt to use the Charlie Hebdo massacre to extend surveillance powers.
Big Brother Watch director Emma Carr said: "It is wholly unacceptable for this tragedy in Paris to be used as a means to call for a return of the snooper's charter. It is the wrong solution and would divert resources from focused surveillance operations at a time when the agencies are already struggling to cope with the volume of information available."
Labour leader Ed Miliband said any move to grant security agencies more powers and resources to track suspects should be "cautious and considered".
"We've got to look at 'Do our intelligence services have the tools they need?' but equally 'Do we have the proper oversight to guarantee the liberties of free citizens?'" said Miliband. "Because, after all, one of the things we want to protect most of all here is our freedoms. We should defend our freedoms and also make sure the security services have what's necessary to make sure that we counter that threat and defend that freedom."
But speaking on Sky News yesterday, London Mayor Boris said he was "not particularly interested in this civil liberties stuff when it comes to these people's emails and mobile phone conversations".
"You have got to have a very tough security solution, to be absolutely determined to monitor these people, know where they are, know who they're talking to. If they are a threat to our society then I want them properly listened to."
Johnson later hailed the bravery of Muslims who acted to save others' lives during the shooting spree of three heavily-armed militants in France last week, as well as Muslims who have spoken out to condemn the killings. Muslim voices would have the greatest weight in persuading young people not to join the cause of violent Islamism, he said.
Writing in the Daily Telegraph, Johnson admitted that as editor of The Spectator, he decided not to publish cartoons of the Prophet Mohammed, "not just because they were obviously gratuitously inflammatory, but because I didn't see how I could justify my decision to the widows and orphans of my staff, in the event of an attack on our offices".
He paid tribute to the Muslim policeman murdered outside the offices of Charlie Hebdo and the Muslim supermarket worker who hid Jewish shoppers from gunman Amedy Coulibaly.
And he praised the "dignified and sensible" response of the Association of British Muslims, which condemned the killings and defended Charlie Hebdo's free speech, as well as the Muslim mayor of Rotterdam, Ahmed Aboutaleb, who Johnson hailed as "my hero" for telling would-be jihadis in the Netherlands: "If you don't like freedom, then f--- off."
Johnson wrote: "That is the voice of the Enlightenment, of Voltaire. We can and will protect this country against these jihadi thugs.
"We will bug them and monitor them and arrest them and prosecute them and jail them. But if we are going to win the struggle for the minds of these young people, then that is the kind of voice we need to hear - and it needs above all to be a Muslim voice."
Cameron played down suggestions that the terrorism threat level should be raised from its current "severe" rating - meaning an attack is "highly likely" - to "critical", which would suggest an attack is imminent.
MI5 chief Andrew Parker warned last week that al Qaeda terrorists in Syria were planning "mass casualty attacks" against Western targets, and Metropolitan Police Commissioner Sir Bernard Hogan-Howe said a terror attack in the UK was "a possibility" - though he stressed he did not think it "likely".
Cameron said the current threat level was "appropriate, given all the intelligence".
He said: "To push it higher to the level of 'critical' means that you have warning of the imminence of a particular attack, and we don't have that intelligence today. So I think the threat level is set at the right level."