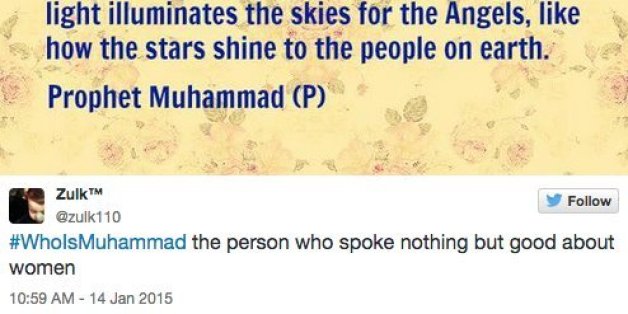 Twitter
Muslims around the world are using Twitter to reassert the image of the Prophet Muhammed in the wake of the Charlie Hebdo shootings.
LRTs this Saturday at 8pm, lets defend our beloved Prophet (pbuh) and teach the non-muslims about who he really was❤️ #WhoIsMuhammad

— R.Khxn♔™ (@certi_xo) January 13, 2015
The hashtag #WhoIsMuhammad is trending on Twitter on the same day that 5 million copies of the French satirical magazine went on sale depicting the Prophet on its front cover.
SEE ALSO: Fox News Lampooned By French TV For Comparing 'No-Go' Zones To Afghanistan & Iraq
Orthodox Islamic doctrine forbids depiction of all prophets to prevent them becoming objects of idolatry.
I'm an atheist, but #WhoIsMuhammad trending has put a big smile on my face. Far too much scaremongering about Islam in the media.

— Barry Hutchison (@barryhutchison) January 14, 2015
A heated debate has raged once again about where the line between freedom of speech and offending religious sentiments should be drawn.
The one who is sent salutation on by billions of people round the world all the time. #WhoIsMuhammad

— Sheikh Waseem Gulzar (@sheikhwaseemgul) January 14, 2015
A man who cried and prayed for you 1400 years before you were born. Is there any thing else left to say?

— Mohammad Abu Bakr (@AbuBakr_LFC) January 14, 2015
The gunmen in the attack on Charlie Hebdo's headquarters shouted: "We have avenged the Prophet Mohammed, we have avenged the Prophet Mohammed, we have killed Charlie Hebdo."
His body stoned, stomach starved, life threatened & family murdered. Yet He forgave all & faced them with a loving smile. #WhoIsMuhammad

— Sufyaan H Valimulla (@BeautiesofIslam) January 14, 2015
Lamartine (1854): "Philosopher, orator, apostle, legislator, warrior, conqueror of ideas, restorer of rational dogmas, #WhoIsMuhammad

— ©_Biochemist_© (@Itz_Farouqqq) January 14, 2015
All mainstream Muslim groups have condemned the attack.
#WhoIsMuhammad (PBUH) pic.twitter.com/G2r1Tp1wa8

— GoNawazGo (@G0_NAWAZ_G0) January 14, 2015
#WhoIsMuhammad (Peace Be Upon Him)...His last words on Earth were "Be good to women".

— _***Nashrin***_ (@Nashrin786) January 14, 2015
He abolished the concept of ethnic discrimination by saying this.

#WhoIsMuhammad (Peace be upon him) pic.twitter.com/ZPmBlqKPdh

— B. (@al_Bakistani) January 14, 2015
#WhoIsMuhammad the person who spoke nothing but good about women pic.twitter.com/OeaSYy0UYq

— Zulk™ (@zulk110) January 14, 2015
He's the last messenger that Allah sent to complete the message of Jesus, Moses, and all the other prophets (PBUth) .

— KazumI (@Kazumi_142) January 14, 2015
People talk about the love Jesus had for us because he "died" on the cross, but my prophet died every night in prostration. #WhoIsMuhammad

— vigrin mary (@TheSomaliPoet) January 14, 2015
#WhoIsMuhammad whoever thought of this hashtag is incredible MashaAllah.We need to educate the masses about who our beloved prophet pbuh is.

— m (@Mohxmd) January 14, 2015