Prime Minister's Questions (PMQs) is a farce and should be scrapped altogether, Nick Clegg has said.
He said that he found sitting alongside David Cameron during the weekly Commons clashes "awkward".
Interviewed on BBC Radio 5 Live's Pienaar's Politics on Sunday, Mr Clegg said: "How much (more) awkward can you get?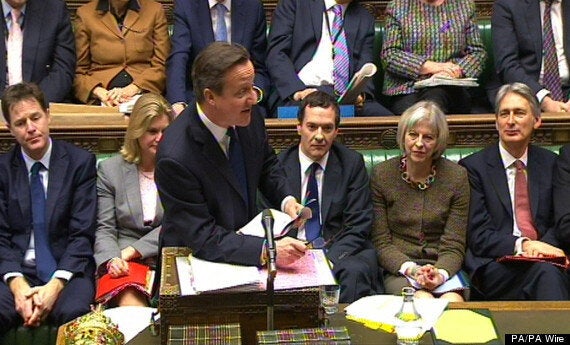 Nick Clegg is feeling 'awkward' in this photo, he has confirmed
"To have to sit to listen to your two main rivals tear strips off each other and you're not allowed to say anything.
"Of course it's awkward, it's ridiculous. The whole thing is ridiculous, the whole thing should be scrapped.
"It's an absolute farce, Prime Minister's Questions."
Asked whether he would be sitting next to Cameron at PMQs right up until Parliament dissolves for the general election, Mr Clegg said: "I sometimes will, I sometimes won't.
"Do I think that use of my time, sitting there biting my tongue as I listen to them say increasingly daft and shrill things to each other, do I think it's a great use of my time?
"No. Do I wish I didn't have to do it? Probably, quite a lot of the time."
Clegg is not the first heavyweight parliamentarian to condemn PMQs in the last year.
Speaker John Bercow condemned the bad behaviour at PMQs and cited the many letters from the public, pouring scorn on parliament's "nodding donkeys" and "sneering fools", as evidence it needs to reform.
Ed Miliband has said he would replace PMQs with a "public question time" if he becomes prime minister after May's general election.
He said: "At the moment there is the glass that separates the public in the gallery from the House of Commons, but there is a gulf miles wide between the kind of politics people want and what Prime Minister's Questions offers."