Bahrain has sentence a human rights activist to six months in prison over a tweet, in a stark contrast to when Bahraini dignitaries joined the march through Paris defending free speech earlier this month.
A colleague of Nabeel Rajab said Bahrain's clampdown on human rights was "enabled by the UK government" which he accused of "propping up the Bahraini government with arms".
Mr Rajab, president of the Bahrain Centre for Human Rights, tweeted last year that Bahraini security services, which have carried out violent clampdowns on protests in the country, were an "ideological incubator" for jihadists of Islamic State.
He was sentenced on Tuesday to six months in prison. He tweeted that he had the option of paying 200 Bahraini Dinars - roughly £350 - if he wanted to remain free until an appeal on the sentence was decided.
Sayed Alwadaei, a colleague of Mr Rajab's based in the UK, told The Huffington Post UK that the fine was paid, so Mr Rajab will be free while awaiting the appeal decision.
Mr Alwadaei added: "Bahrain feels it is appropriate to march in Paris for freedom of expression while imprisoning world leading human rights defenders at home for tweeting.
"This is a shameful indictment enabled by the UK government that is still propping up the Bahraini government with arms and to this day refuses to condemn human rights abuses committed by its ally."
Bahrain's foreign minister Sheikh Khaled bin Ahmed Al Khalifa and prince Abdullah Bin Hamad al-Khalifa joined world leaders to symbolically march with millions through Paris, to defy the terrorists who murdered Charlie Hebdo cartoonists over what they had drawn.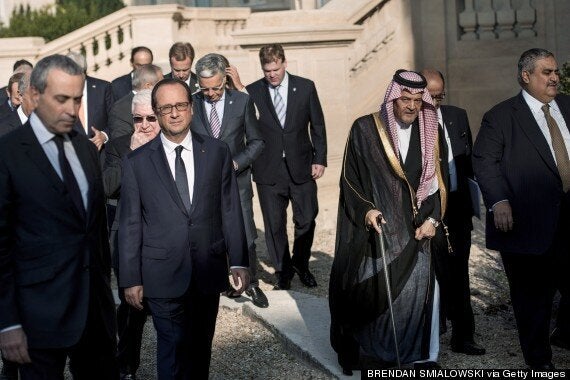 Sheikh Khaled bin Ahmed Al Khalifa (right, pictured in France in 2014) was among the dignitaries in Paris who marched in solidarity after the Charlie Hebdo attacks
The Foreign Office had not responded to Mr Rajab's sentence or the comments of Mr Alwadaei as this article went live.
Britain's commercial and security relationship with Bahrain is close and is about to get closer.
Foreign secretary Philip Hammond told a conference in Bahrain: "Your security is our security. Your prosperity is our prosperity. Your stability is our stability."
Speaking last year, Mr Rajab told HuffPost UK that "nobody wants to touch" states like Bahrain because of their influence.
He added: "It's not like when something happens in Iran, or Iraq or Syria. The UK especially is very careful of interfering in a country like Bahrain or Saudi Arabia.
"And this makes our struggle for democracy very difficult. I don't expect it to be discussed in the Parliament here, or in the European Union, but still it is amazing how soft the government here is. It's very, very disappointing."
Popular in the Community