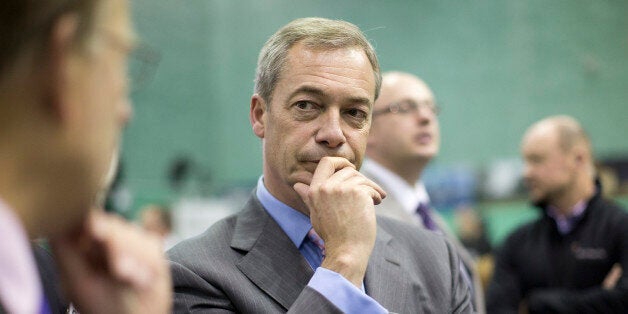 Nigel Farage was at the centre of a leak crisis today after a string of embarrassing admissions from Ukip's ruling executive revealed he was worried the party was "not passing the credibility test" and being straight with voters.
"NF [Nigel Farage] thinks we cannot talk about council tax cuts and spending more on policing etc all at the same time, we are setting ourselves up for a fall," the minutes state. "His problem is that we are promising the earth to everybody."
A Ukip spokesman told the Huffington Post UK that Farage was making clear that the party needed to provide "policy solutions that are costed, achievable and credible".
He added: "What these leaked NEC documents show clearly is that from the very start of our policy process Ukip is driven by an understanding that the political elite have lied, lied and lied again. Ukip is not going to make those mistakes and will ensure that its policies chime with the electorate because they are possible.
"Unlike the establishment who rule by deception, Ukip believes that politics is and must be the art of the possible".
Ukip has been rocked by second embarrassing leak of minutes that show senior Ukip members wanted to back a "radical" privatisation of the NHS, but felt it was impossible for now as "the public love it".
According to minutes leaked to the Political Scrapbook blog, Ukip's national executive committee unanimously approved a policy of undertaking a cost-benefit analysis of having the NHS funded through private insurance, an idea Farage has recently suggested.
During the meeting in October 2012, one member of Ukip's ruling executive lamented that "in the longer term we want a radical approach but we cannot do that in this time frame."
Another said that the party "cannot change [the NHS] wholesale because the public love it", adding: "When the sky does not fall in from the current changes, we will be able to come up with a radical policy."
A Ukip spokesperson confirmed that the party looked at the private insurance model, but that the ruling executive "decided the costs outweighed the benefits".
However, the leaks pile more pressure on Farage who has tried to move Ukip on from a rift over the future of the NHS that he re-opened after warning that all parties will "have to return" to a debate on funding the health service through a US-style private insurance system, despite admitting to failing "outright" to persuade the party in 2012 to back this form of NHS privatisation.
In response to Farage's comments, Ukip's health spokeswoman Louise Bours MEP slapped down her leader, claiming that party members would inevitably reject their leader's proposed health insurance system if it came up for debate again.
She went on: "Nigel is entitled to his opinion and others are entitled to theirs, we don't whip people into all thinking the same thing, like the establishment parties. As he has said before, he raised the idea for discussion a while ago, the party discussed at and rejected it.
"I am certain that if the party discuss it again, we will reject it again. The vast majority of Ukip members, the British public and I will always favour a state funded NHS."
Last year, Farage was forced to backtrack on comments he made in 2012 after a footage emerged of him stating that he would "feel more comfortable" with the NHS run by private companies and organised under an insurance-based system.
He later insisted it was just an idea he "threw out for debate", with the party's policy on the NHS now "settled" against privatisation.
But asked by BBC political editor Nick Robinson for his documentary "Can Democracy Work?" if he stood by his view that the NHS could not be sustainably funded just from the public purse, Farage said: "There is no question that healthcare provision is going to have to be very much greater in 10 years than it is today, with an ageing population, and we're going to have to find ways to do it."
Farage's remarks were condemned by Labour shadow health secretary Andy Burnham, who said: "Nigel Farage has confirmed that a vote for Ukip is a vote for the privatisation of the NHS and for a full American healthcare system.
"Farage admits he says one thing in public about the NHS but another behind closed doors. He has shown Ukip's statements on protecting the NHS to be hollow.
"Ukip claim to stand up for working people, but in reality they are more Tory than the Tories. Farage will never be able to distance himself from his real views. He should be honest with the public."
The Ukip leader has tried to dismiss the row, blaming it on "dirty tricks" by other parties and the media.
However, despite stressing his opposition to handing control of the NHS to "faceless private-sector companies", Farage has also in the past called for corporations to be allowed to "run the National Health Service and streamline it".
He told the Telegraph: "I genuinely do think, when you... occasionally hear of a big businessman that says he'd like to run the National Health Service and streamline it, and get better value for money, I think that's the approach we've got to take."
"If you're going to cut government spending," the party leader made clear as he hosted a phone-in with the newspaper's readers, "you have to decide where those cuts are going to come."
In welcome news for Ukip, the party has welcomed one of its highest profile Labour defectors as the mayor of Bishop Auckland, County Durham, has announced he is joining the Eurosceptic party.
Councillor Colin Race, a life-long Labour voter, told colleagues at a town council meeting that he saw Ukip has the only party which "stuck up for the working families".
The defection, which was announced last night, was welcomed by Ukip's MEP for the North East, Jonathan Arnott, who said: "Labour Party members across our region are simply realising that the incredibly wealthy individuals who sit at the top of the Labour Party don't, and make no attempt to, work for hard-working, law-abiding citizens across the country.
"Only Ukip are offering a sensible, credible alternative to the Labour Party who have neglected the North East for years."