UPDATE: The Sun's Dylan Sharpe Apologises For Page 3 'Harassment'.. And It's As Banterous As You'd Imagine
The Sun has confused almost everyone today, including its sister publication The Times, by printing a topless woman on page 3 again. But for some people, looking away was not an option.
The Sun's head of PR Dylan Sharpe tweeted the paper's semi-nude picture directly at MP Harriet Harman, who has long opposed the images, and journalists including Kay Burley, sending Twitter into meltdown over his "unprofessional" and "creepy" behaviour.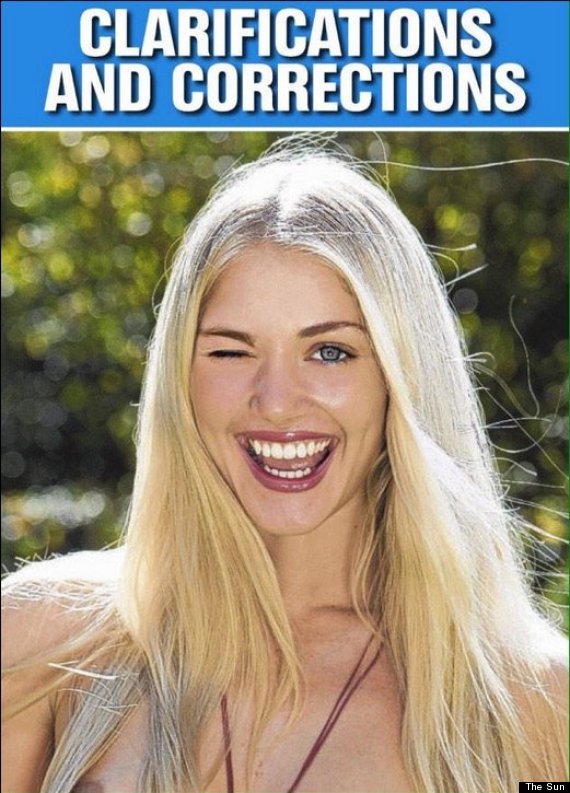 Nicole, 22, from Bournemouth on page 3 of The Sun today amid a week of reports the feature had been dropped
Sharpe - who had refused for three days to confirm or deny the reports that The Sun was drawing page 3 to a close - sent the mocking tweet to Harman, senior Sky presenter Kay Burley, Guardian writers Roy Greenslade and Steve Hewlett, and BBC correspondent Lucy Manning, all of whom had reported on the rumours that the paper would no longer run topless pictures.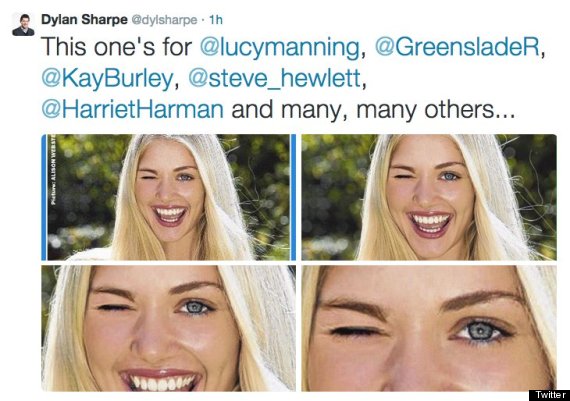 The PR man was swiftly torn apart for being "unprofessional", "childish" and "classless", with Burley leading the charge. "I'm sure your mother is incredibly proud of you", she replied.
.@dylsharpe @lucymanning @GreensladeR @steve_hewlett @HarrietHarman I'm sure your mother is incredibly proud of you Dylan. I know I would be

— Kay Burley (@KayBurley) January 22, 2015
Posting nude images is not against Twitter's guidelines - although the site claims it removes "obscene or pornographic images" from user profile photos, header photos and background images.
Others lashed out at Sharpe's conduct in disbelief:
@MartinBelam @Laura_Weir No professional PR does that. Dylan Sharpe you're not big or clever, you look like an idiot & give PR a bad name

— Francesca Gamble (@GambleLady) January 22, 2015
"Regrets? Um, at some point I took a career turn which led me to tweet naked pics of women to people I've never met" https://t.co/P0NS58EzqV

— Tom Chivers (@TomChivers) January 22, 2015
Whatever you think about Page 3, this is deeply odd from The Sun's PR man: https://t.co/17CkKhIvs6

— Thomas Gorton (@AngstromHoot) January 22, 2015
Sun PR man @dylsharpe provides a perfect example of using #page3 to harass 'frigid' women who won't play their game: https://t.co/lPi4IMp5FC

— James Sheasby Thomas (@RightSaidJames) January 22, 2015
Here's the Sun 'head of PR' sending a collage of topless photos to targeted journalists. Creepy, abusive, harassment. pic.twitter.com/C1NSsGHlDB

— Jack Monroe (@MsJackMonroe) January 22, 2015
Wow. The Sun's PR man is actually @-messaging opponents of Page 3 with topless photos on Twitter. pic.twitter.com/sgBHTxT6xC

— Martin Belam (@MartinBelam) January 22, 2015
The Sun's PR guy makes up creepy collage to tweet, then tells people to 'lighten up'. He's a keeper. pic.twitter.com/kI0Q82vbj1

— Mazzy K (@MazzyK) January 22, 2015
Way to get around the Sun's paywall: express distaste about their content, and then their PR guy will come and tweet it at you.

— Seb Patrick (@sebpatrick) January 22, 2015
Dunno how wise The Sun's new Dapper Laughs approach to PR is. Highlights that under the everyman shtick it's increasingly oddball/extreme.

— Jack Seale (@jackseale) January 22, 2015
When this is how the head of PR at the sun uses p3 how anyone can say this isn't woman hating is beyond me.

— Caroline CriadoPerez (@CCriadoPerez) January 22, 2015
'Why is the rest of the media so obsessed with us?' @TheSunNewspaper complains, after elaborating trolling the rest of the media

— Jack Sommers (@jack_sommers) January 22, 2015
@dylsharpe @mardytwat_ @jack_sommers @TheSunNewspaper and that sir is why it was such excellent trolling! #wellplayed!

— Mr Angry (@Mr_Angry1415) January 22, 2015
@portsmouthinfo @HuffPostUK The Sun was doing brilliantly. Leading a game where no one knew the rules. Then he got personal #NeverTheWayToGo

— Rob Lander Brinkley (@Robin_PR) January 22, 2015
That Dylan Sharpe fella is like the weird kid at school who waved bugs in other kids faces.

But grown up and with a creepy undertone.

— ZenithFlemoir (@Kennyf1283) January 22, 2015
@dylsharpe you're tweeting pictures of topless women to politicians and journalists. You're a grown man.

— Jess Brammar (@jessbrammar) January 22, 2015
@dylsharpe this is really creepy hth

— Alex Hern (@alexhern) January 22, 2015
Entries for the "creepiest media tweet of 2015" award are now closed http://t.co/dM6iYxKiiY @dylsharpe

— peterwalker99 (@peterwalker99) January 22, 2015
@dylsharpe @lucymanning @GreensladeR @KayBurley @steve_hewlett @HarrietHarman Stay classy, Dylan

— Cllr Richard Johnson (@CllrRJohnson) January 22, 2015
.@dylsharpe What an irrepressible prick you are.

— JAMWAH (@JAM_WAH) January 22, 2015
@dylsharpe @lucymanning @GreensladeR @KayBurley @steve_hewlett @HarrietHarman "head of pr" says it all doesn't it. You have no class mate.

— Dean Van Nguyen (@deanvannguyen) January 22, 2015
@dylsharpe @lucymanning @GreensladeR @KayBurley @steve_hewlett @HarrietHarman Are you a child?

— Tara (@TheBluestStar) January 22, 2015
Sharpe told The Huffington Post UK Thursday morning: "A lot of people have tweeted page 3 of the Sun today, and I was merely tweeted it out as well. Do you think it hadn't appeared in their timeline already? I imagine a lot of people on Twitter have seen it today."
He told PA: "That page has been tweeted tens of thousands of times and I do not see it is any different with me tweeting it. Given the number of people who have tweeted that page... I could not have expected that response this time.
"Look at my mentions and the number of people calling me (all) manner of nasty horrible things."
A senior media source also defended Sharpe, telling The Huffington Post UK he was "a young guy" who would be acting under the orders of superiors in a carefully-planned strategy. He reports to The Sun's managing editor Stig Abell.
It seems tweeting nude pictures can gain you followers on Twitter - Sharpe's post hasn't done his profile any harm as he gained hundreds of followers this week.
@jessbrammar Jess, it's a page in the newspaper & I'm not the only one tweeting it.

— Dylan Sharpe (@dylsharpe) January 22, 2015
Sharpe mysteriously failed to target the naked picture at journalists from The Sun's sister paper The Times, which reported on Tuesday that its Rupert Murdoch-owned stablemate had run its last "image of a glamour model with bare breasts on that page", apparently briefed by sources close to The Sun.
The red-top heralded page 3's return today under the front page headline "We've had a mammary lapse."
The picture itself featured a 'correction' saying: "Further to recent reports in all other media outlets, we would like to clarify that this is Page 3 and this is a picture of Nicole, 22, from Bournemouth. We would like to apologise on behalf of the print and broadcast journalists who have spent the last two days talking and writing about us."
The No To Page 3 campaign group, which had all but declared victory in their battle to have the feature axed, said the "fight might be back on".
Writing on their Facebook page they said: "Thanks to The Sun for all the publicity they've given the campaign."
By 11am the fight back against Page 3 had seen an online petition boasting 218,237 signatures.