Dylan Sharpe was accused of "creepy, abusive, harassment" for sending a tweet that was tantamount to "woman hating".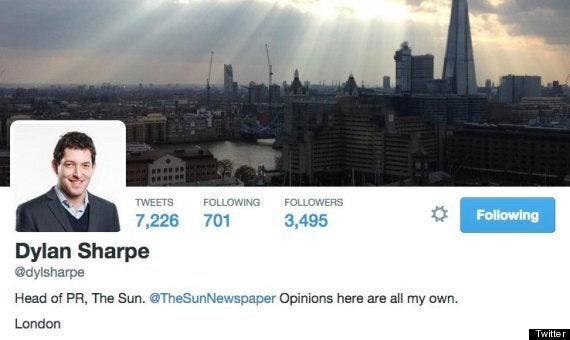 Sharpe has tried to say sorry for his tweet to the MP and journalists
Sharpe today described the tweet as a "joke" and said he had received death threats as a result of the message.
He told The Huffington Post yesterday "a lot of people" had tweeted page 3 of the newspaper and he was "merely tweeting it out as well", saying that Harman and the journalists would probably have seen the picture already.
It begins: "Hi. My name is Dylan Sharpe. Nominally I'm the Head of PR for The Sun, but you may also know me as 'c*ckwomble', 'c*[**]' or 'creepiest guy on Twitter'. This is my story…"
Sharpe explained what began as his attempt at a "cheeky dig", quickly escalated.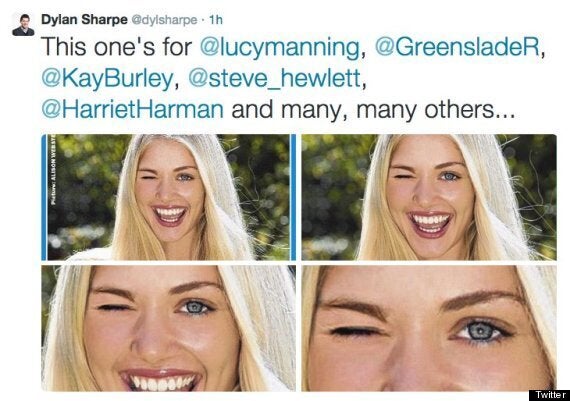 "On Wednesday night, came 'the big reveal'. Oh how we laughed. Lazarus reappeared topless on the 3rd page of The Sun, and was tweeted by our official Twitter account and many thousands more. By midnight, anyone who hadn't yet hit the hay knew The People's Paper had done it again.
"On the train to the office the next morning I decided it was time for a cheeky dig. Nicole, 22, from Bournemouth was winking - now I'd use that wink to make a none-so-subtle point about ignoring my warnings. But to whom should I send it?"
He also apologised for including Harman in the tweet: "I shouldn't have tweeted to Harriet. She wasn't involved and, unlike the others, I hadn't spoken to her. But just before I sent the now infamous tweet I'd seen the graphic, created in Labour HQ, celebrating that page 3 was no more. I stuck her Twitter handle in - it was a big, stupid, mistake."
Of the negative reaction from Burley, who replied to the image saying "I'm sure your mother is incredibly proud of you", Sharpe said: "I like Kay Burley, she stands out among reporters with her easy charisma and charm, but I'd upset her. I started to write an apology but my Twitter mentions were going insane."
"Someone with a lot of followers thought I'd done it to be nasty. 'No', thought I, 'it's funny. It's not about the naked breasts (which had already been tweeted over 10,000 times by other Twitter users) it's the wink. I am Nicole. I am the winker (you read that right), winking at the people who I had told the day before not to assume page 3 had gone'. But it was too late.
"Twitter had decided I was doing it to belittle, to attack, to demean. By 10am I had gained 500 followers, a hate campaign and a parody account."
"By 11am The Huffington Post (whose job, I have learned, is to tell their readers what they should be angry about in The Sun) had written an article about me and how horrible a human I was.
"By midday I was receiving death threats and being told I was the most vile person that had ever lived."
A senior media source yesterday defended Sharpe, telling The Huffington Post UK he was "a young guy" who would be simply acting under the orders of superiors in a carefully-planned strategy. He reports to The Sun's managing editor Stig Abell.
Sharpe ended his statement saying: "At 11pm the final ignominy. I was backed by a UKIP MEP on Question Time. The nail in my mouldy, hated, coffin.
"So there it is. I continue to be told I'm a c*[**] by people who know my name, my job and one tweet I sent.
"Guilty of gloating I most certainly am. Icarus has well and truly plummeted to earth. But I never meant to offend and I want to apologise to all those I @'ed in that tweet. It was supposed to be funny but clearly I misjudged that one. Now I see if Twitter can forgive as quickly as it can hate…."
But critics aren't taking his apology well, claiming his statement was "banter" and "self-referencing".
No More Page 3 campaigners pointed out that they often receive death threats online, while Guardian columnist Grace Dent said it was "not an apology."
Sharpe's statement added that he had "spent 48 hours telling the nation's media that a story is speculation" earlier this week, yet when The Huffington Post UK tried to contact him on numerous occasions to set the record straight about the page 3 rumours, he made no response.