A jubilant Alexis Tsipras has told Greeks that his radical left Syriza party's win in the snap general election will mean an end to austerity and humiliation and that the country's fraught debt inspections were a thing of the past.
"Today the Greek people have made history. Hope has made history," Tsipras said in his victory speech at a conference hall in central Athens, poised to be the youngest prime minister of Greece in 150 years.
Greece's outgoing prime minister has conceded defeat, saying he is delivering a country that has put the worst of its financial crisis behind it.
Official results with 60% of polling stations counted showed Syriza with 36%, far ahead of Prime Minister Antonis Samaras' conservatives, who had 28%. The centrist Potami party is battling for third place with the Nazi-inspired, extreme right-wing Golden Dawn, whose leadership is in prison pending trial for running a criminal organisation.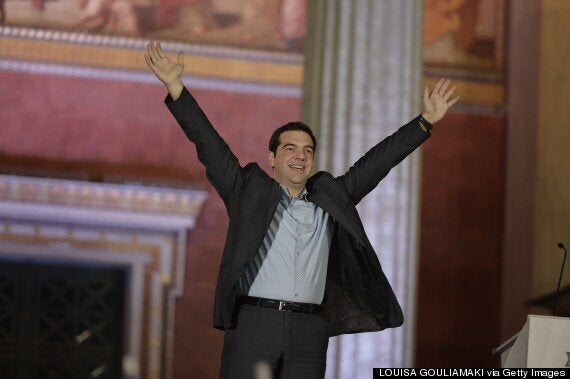 Syriza leader Alexis Tsipras greets supporters following victory in the election in Athens
But it was still unclear whether Syriza would have the minimum 151 of parliament's 300 seats needed to form a government without support from other parties. Greek election officials said that would likely only become clear once all votes were counted — something not expected until later Monday morning.
"The sovereign Greek people today have given a clear, strong, indisputable mandate. Greece has turned a page. Greece is leaving behind the destructive austerity, fear and authoritarianism. It is leaving behind five years of humiliation and pain," Tsipras said to a crowd of rapturous red flag-waving supporters.
"The verdict of the Greek people ends, beyond any doubt, the vicious circle of austerity in our country," Tsipras said.
"The verdict of the Greek people, your verdict, annuls today in an indisputable fashion the bailout agreements of austerity and disaster. The verdict of the Greek people renders the troika a thing of the past for our common European framework."
Samaras said he had received a country "on the brink of disaster" when he took over in 2012 and that he has set the foundations for growth and a definitive end to Greece's financial crisis. "I was asked to hold live coals in my hands and I did," he said. "Most gave us no prospect of lasting out and we did. We got the country out of deficits and recession ... and set the foundations for growth and a final exit from the crisis."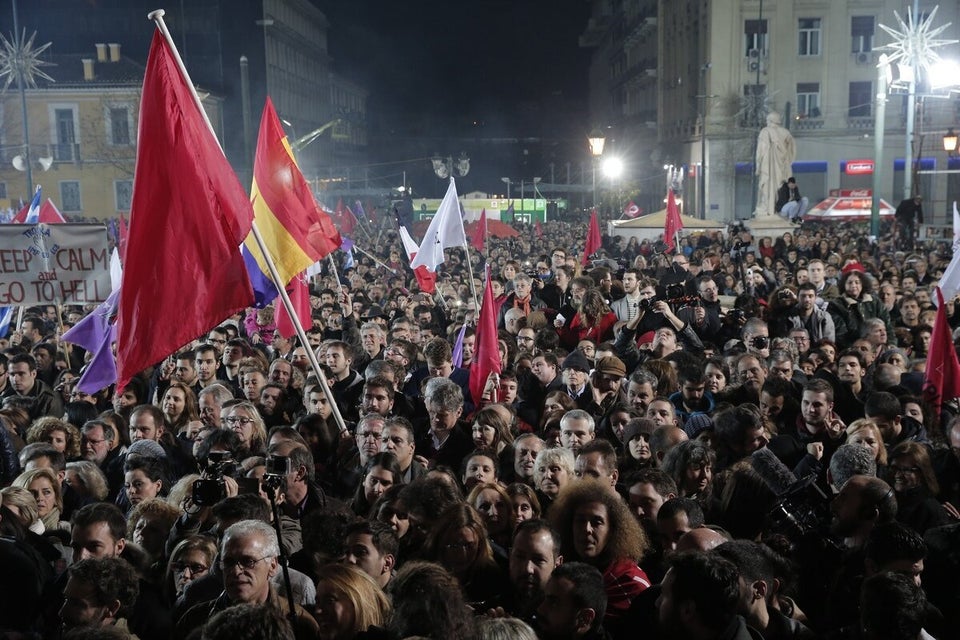 Syriza celebrates
"What's clear is we have a historic victory that sends a message that does not only concern the Greek people, but all European peoples," Syriza party spokesman Panos Skourletis said on Mega television. "There is great relief among all Europeans. The only question is how big a victory it is."
Skourletis said the election results heralded "a return of social dignity and social justice. A return to democracy. Because, beyond the wild austerity, democracy has suffered."
"We lost," Health Minister and conservative party parliamentary spokesman Makis Voridis told private Mega TV, adding that the extent of the defeat wasn't yet clear. "Our role will be the one the Greek people assigned to us: the major opposition party. From this standpoint, we will critique the (new) government's policies, remaining true to our principles."
Syriza has promised to renegotiate the country's 240 billion euro international bailout deal. It has pledged to reverse many of the reforms that international creditors demanded in exchange for keeping Greece financially afloat since 2010.
The anti-bailout rhetoric has renewed doubts over Greece's ability to emerge from its financial crisis that has seen a quarter of its economy wiped out, sent unemployment soaring and undermined the euro.
The reaction to the victory was huge on social media, with many commentators speculating about its reverberations through European markets and politics.
Greece's creditors insist the country must abide by previous commitments to continue receiving support, and investors and markets alike have been spooked by the anti-bailout rhetoric. Greece could face bankruptcy if a solution is not found, although speculation of a "Grexit" — Greece leaving the euro — and a potential collapse of the currency has been far less fraught than during the last general election in 2012.
Syriza's promises to end Greece's era of crushing austerity have attracted many voters infuriated by the deterioration in their standard of living and ever-increasing tax bills.
Greece's next government faces a series of formidable tasks, the most pressing of which is concluding negotiations with bailout inspectors to release a 7.2 billion euro loan installment originally due late last year. The new government also must negotiate some kind of relief for Greece's 320 billion euro debt and bolster weak growth.
The election result will be the focal point of Monday's meeting of eurozone finance ministers and Belgium's minister, Johan Van Overtveldt, said there was room for some, but not much, flexibility. "We can talk modalities, we can talk debt restructuring, but the cornerstone that Greece must respect the rules of monetary union — that must stay as it is," Van Overtveldt told VRT network.
"As far as I am concerned, we can discuss the modalities (of the program) but it's impossible to fundamentally change things," he added.
Related