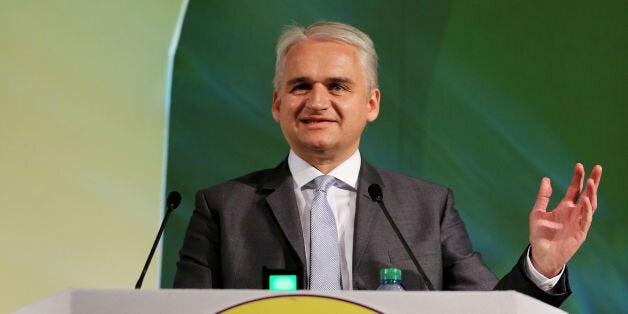 A senior Ukip MEP has attacked the "ultra-Tory libertarian" wing of his party, accusing it of being "politically completely away with the fairies".
Patrick O'Flynn, Ukip's economics spokesman, is known to believe the party needs to focus on winning over Labour voters in the north of England if it is to grow. In a tape recording of a recent Ukip meeting obtained by The Huffington Post, O'Flynn acknowledged this had caused "friction" with those on the right of the party. And admitted some "egos" in the Ukip ranks had got "out of control".
O'Flynn, who was first recruited as the party's director of communications in 2014, was speaking at meeting in Basingstoke on January 8. Some of O'Flynn's comments were also reported in The Sunday Times. But a fuller account is below.
"Sometimes I put things at the limit for some of that libertarian wing of the party," he said. "And they can sometimes regard me as a bit of a leftie. I think I was called 'Pinko Patrick'. I'm a pragmatist on this stuff I personally I think the flat tax was simply too right-wing."
Arron Banks, the Ukip supporter who is financing the party's election campaign with a £1m donation, told the Financial Times on Friday that he did not like "pinkos".
O'Flynn said the "very hardline libertarians" within Ukip "want to shrink the state completely" needed to recognise that the British public would not vote for that.
"I'm very much someone who will not saddle Ukip with policy of that level of ideological purity that won't wash with the British public. I think it's our duty to be populist to get those MPs into parliament. That's the next leg of this mission we're on, we have to get some MPs into parliament to force the case on the referendum," he said.
"There are, I think, a very small proportion of the party that would love us to be that kind of British version of the Tea Party. I think that's a complete blind ally for Ukip to go down and would betray our greater purpose. So sometimes that does cause a bit of friction. But you know I'm prepared to fight those battles."
At the meeting O'Flynn, who used to run the party's press operation, also admitted December had not been a good month for Ukip PR-wise. "I think it's fair to say that in December it wasn't quite the case of the wheels coming off, but it was a case of us not showing our best face to the British people," he admitted.
O'Flynn said "some personal issues" in the party had cause trouble and "perhaps egos [got] slightly out of control" - although he did not name-names. He said the party needed to avoid becoming "self-indulgent" and warned colleagues not to "stop being team players" given May's election was so close.
The MEP attempted to reach out to Labour voters at the Ukip conference in September by proposing a new tax on luxury goods. However embarrassingly for O'Flynn the policy was swiftly killed-off by Farage.
Related