Tsipras, who has joked he won't wear a neck-tie until a debt reduction deal is in place, looked confident as he strolled into the Greek presidential palace, but as his hands took the Mont Blanc fountain pen to sign his name into the official mandate, the camera honed in on the faintest of trembles.
The 40-year-old is the first prime minister in history to forgo a religious ceremony with a Greek Orthodox priest, opting for a entirely secular event, and the country's youngest leader in 150 years.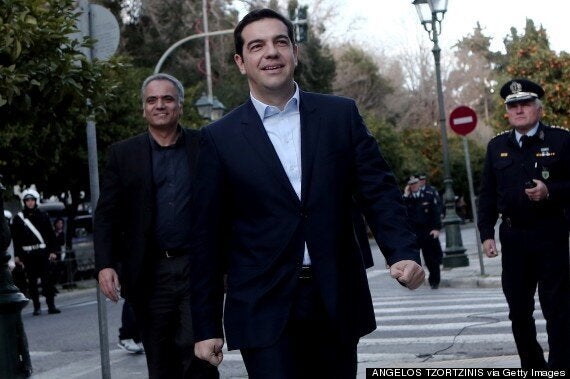 Syriza leader Alexis Tsipras (C) arrives at the Presidential Palace for his civil oath as Greek Prime Minister in Athens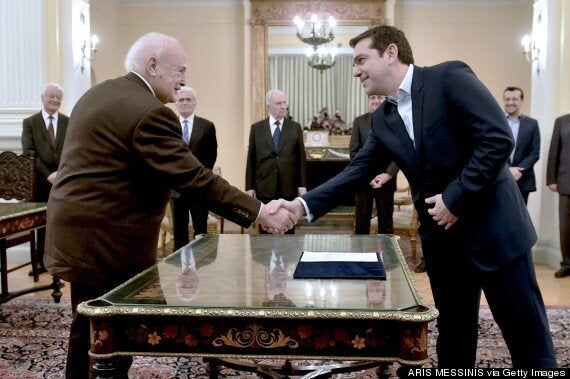 Syriza's leader Alexis Tsipras (R) shakes hands with Greece's President Karolos Papoulias (L) as he is sworn in as Greek Prime Minister
For such an anticipated and, in some quarters, nerve-wracking moment in European politics, it was over in moments. Tsipras hurried out of the room, moving down the corridor almost at a run, back to the official prime ministerial residence Maximos Mansion, before the next hurdle, his vote of confidence at the Greek parliament.
Tsipras must now prove he has the support of a majority of MPs, to give him a mandate to form a government and to begin appointing a cabinet.
He has done a coalition deal with the controversial populists Independent Greeks to give Tsipras a slim parliamentary majority, but he is believed to be speaking to the fourth-place centrist To Potami (The River) and also the communist party KKE later today to firm up support from them.
The world-views of Independent Greeks (ANEL) and Syriza are legions apart. ANEL were a splinter group from the conservative New Democracy party which held power in the last parliament and all the two parties have in common is a mutual distaste for the European bailout programme.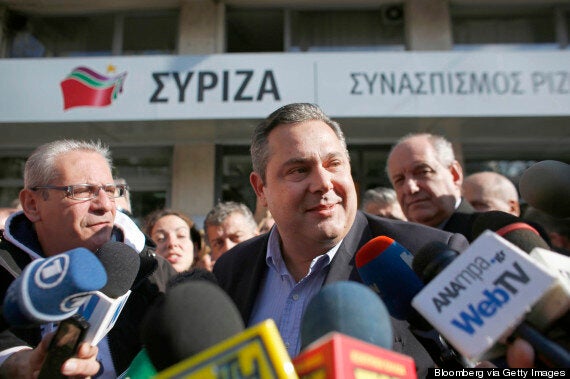 Panos Kammenos, leader of the Independent Greeks party, speaks to reporters following a meeting witTsipras at the Syriza party headquarters
With Kammenos allied with Nigel Farage's Ukip in Europe, the two Greek parties are unlikely to see eye-to-eye on issues like immigration and the separation of church and state - Syriza is firmly secular whereas Kammenos has religious associations. But ANEL are also unlikely to have a hugely significant role in the coalition with Tsipras having won so decisively.
Syriza needed 151 seats for a full majority and narrowly missed out, gaining 148 spots. ANEL took 13 seats, giving the coalition a much more comfortable majority.
Tsipras was elected on a platform to re-negotiate the terms of Greece's €240bn bailout package.
One of the first to congratulate him on his victory was European Commission head Jean-Claude Juncker in a note that stressed the importance of "ensuring fiscal responsibility".
"The European Commission stands ready to continue assisting Greece in achieving these goals," Juncker said.
"They asked not to be fooled with a 'blank check' but to take responsibility, both individual and collective. They asked them to look forward with a different perspective.
"It is precisely at this fact where lies the essence of the aforementioned political earthquake; the fact that the citizens did not just approve a new direction but also a new policy framework. It has been clear that the Greek citizens have rejected, not just the austerity measures, but also the vicious, patronising and corrupted political system."
Tsipras will move into the Maximos Mansion with his partner Betty Batziana and their two sons, Phoebus and Orpheus.
The couple met in high school and were both members of the communist youth movement; they will be the first unmarried couple to dwell in the prime ministerial residence, moving from their modest two-bedroom apartment in seven-storey block. Their youngest son's middle name is Ernesto, a tribute to Che Guevara.