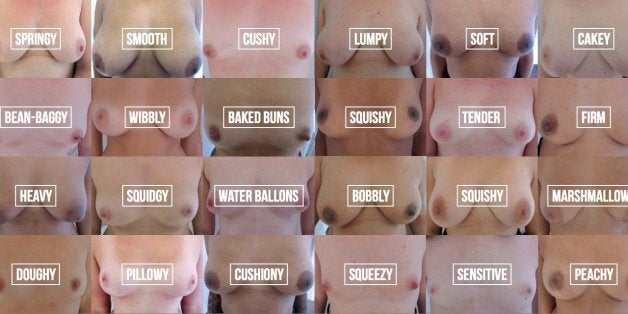 The CoppaFeel! campaign, which features bare breasts, is intended to get women familiar with what their breasts feel like.
It aims to normalise breasts, which are so often sexualised by the media, and remind women to regularly check themselves for signs of cancer.
Sounds like a great idea, right?
But when HuffPost UK Lifestyle's assistant editor Brogan Driscoll posted our article, which pulled in a picture of the advert, to Facebook, she was temporarily banned from the social media site and her post was removed.
"Facebook restricts displays of nudity because some audiences within our global community are particularly sensitive to this type of content," the notification reads.
"We understand that these limitations can sometimes affect content shared for legitimate reasons, including awareness campaigns or artistic projects, and we apologise for the inconvenience."
HuffPost UK Lifestyle have contacted Facebook for comment.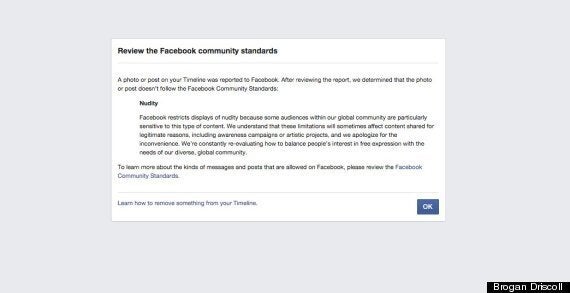 Founder of CoppaFeel! Kris Hallenga - who was diagnosed with stage 4 breast cancer at the age of 23 - told us she thinks it's a shame Facebook doesn't distinguish between sexual messaging and a strong positive health message.
"The #WhatNormalFeelsLike campaign has had such a positive response from women all over the UK and most of the nation's online news sites have picked up the ads and celebrated the role they play," she said.
"It's frustrating that both ourselves and the public can't share an important message like this on the biggest social space available.
"There is a strict no nipple policy but we hope they begin to think about introducing some exceptions."
Facebook isn't the only place to reject the CoppaFeel! pictures. The charity had to battle to get their campaign on billboards in London, Liverpool and Glasgow.
As HuffPost's Louise Ridley points out: "Campaigners and ministers can't seem to banish the daily topless lady in Britain's biggest selling "family" paper, yet it's a struggle to get some pictures of natural breasts on a billboard to prevent cancer."
It seems that the powers that be are so used to seeing breasts portrayed in a sexualised manner, they're not quite how to react to a bog-standard boobie.
To address the issue, feminist photographer Laura Dodsworth created Bare Reality - a project aiming to prompt people to think about the dichotomy between how women's breasts actually look, and how they are presented for consumption in the media.
Commenting on Facebook removing the CoppaFeel! image, she said: "I think Facebook's policy betrays a huge double standard: you can find plenty of soft porn, pictures of breasts, violence, even beheadings, but it deems women's nipples 'obscene'.
"It seems that presenting breasts as part of a thoughtful project which makes women subject and not object, and which doesn't present women's bodies for the male gaze, is unappetising and problematic for Facebook.
"I applaud Coppafeel's campaign to normalise women's bodies and hope it is successful in its aims."
But clearly we still need to talk about context and re-evaluate when it's okay to display images of bare breasts and when it isn't.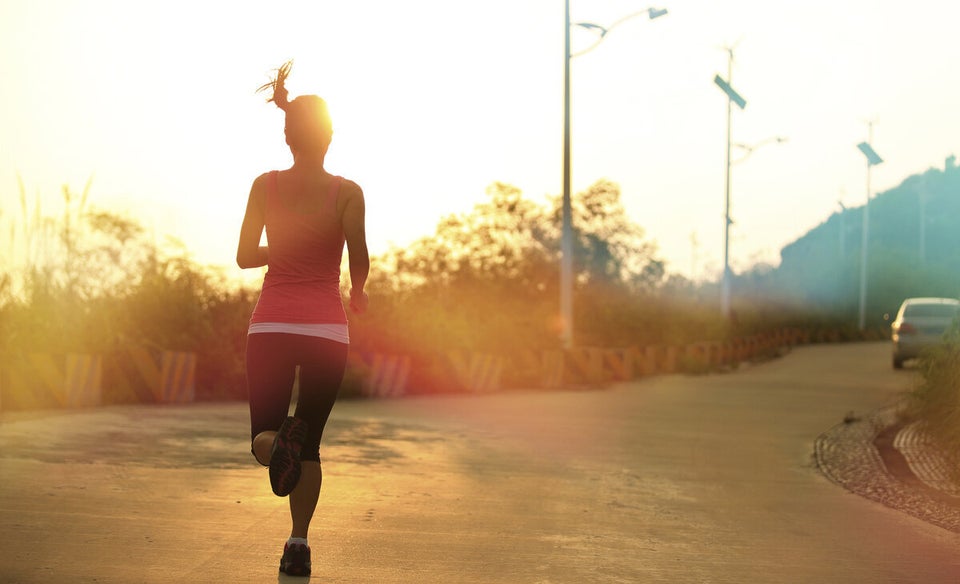 Breast Cancer: Myths Vs Facts