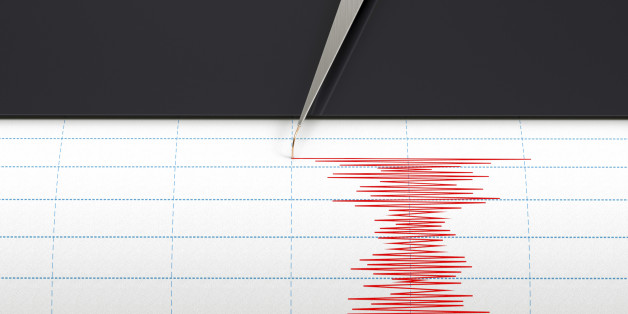 Tomislav Zivkovic via Getty Images
The second earthquake in two days struck the UK on Wednesday night prompting fear, shock and general calamity.
Crack in pot gets slightly larger #Rutland #Earthquake pic.twitter.com/lS0B0p546w

— Owen Morgan (@MosaicGardens) January 29, 2015
Ok, maybe not.
The tremor measuring 3.8 on the Richter Scale was felt by residents in Leicestershire, Rutland and Lincolnshire at approximately 10:25pm.
Rutland earthquake damage assessed. We will rebuild .... pic.twitter.com/KanBXB7vKl

— Geography Dept (@SS_Geography) January 28, 2015
The epicentre was near the East Midlands village of Cottesmore, where residents woke up to mock the low impact.
This follows a 2.9 magnitude shake in Winchester on Tuesday, which was felt as far away as Bournemouth.
British Geological Survey (BGS) seismologist Paul Denton, who lives in Oakham, a few miles from the epicentre, said he heard and felt an almost instantaneous "bang and a sharp jolt", but said those farther away would have witnessed shaking and vibrations.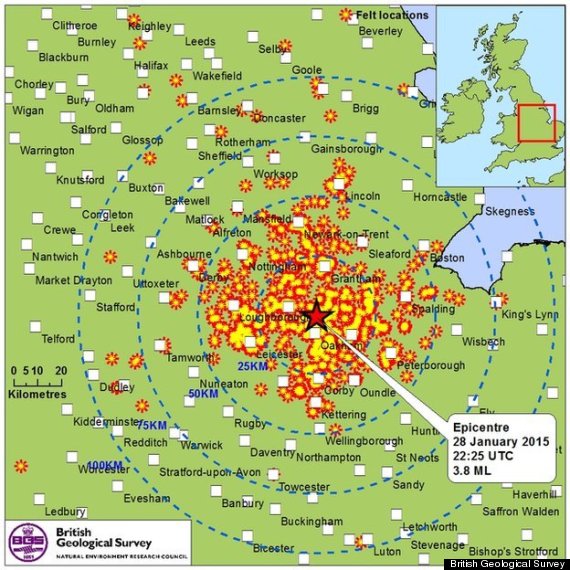 The British Geological Survey says the epicentre was at coordinates 52.723 -0.707, at a depth of 8km
The BGS received over 1,000 calls to report the tremors, with one resident saying "the whole bed was visibly shaking".
Two earthquakes hit the Rutland area in April last year in quick succession, causing widespread shock.
The 'devastation' has been well chronicled on Twitter, with people across the East Midlands posting pictures of the aftermath:
The devastation after last night's earthquake! #Peterborough #Stamford #Spalding #Earthquake Kev & Ros x pic.twitter.com/Dh18KZajYb

— Heart Cambridgeshire (@HeartCambs) January 29, 2015
Mayhem in Leicestershire as #earthquake hits. pic.twitter.com/90zQxwgyLH

— Belle (@BelleD1992) January 28, 2015
East Midlands Ambulance Service said it had not received any calls of injuries linked to the tremors.
A police spokesman said that no explanation or cause for the shaking could be found and no injuries had been reported.
SEE ALSO:
The largest ever recorded earthquake to hit Britain was Dogger Bank in the North Sea in 1931, which hit 6.1 on the Richter scale, damaging coastal homes.
More recently in 2008, a 5.2-magnitude quake hit Lincolnshire near the town of Market Rasen.