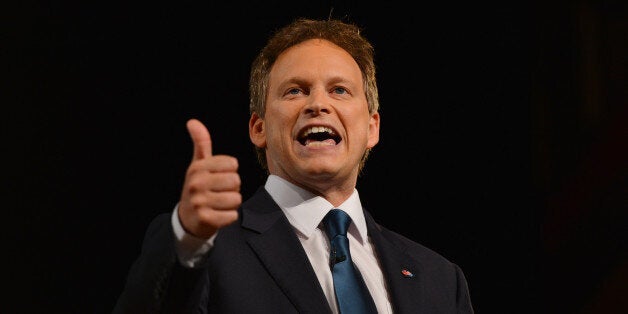 Ukip have branded Tory chairman Grant Shapps "delusional" for ruling out any possibility of the Tories doing any "pacts and deals" with them after the general election in order to be able to form a stable government.
Speaking to reporters on Friday morning, Shapps indicated that the Tories were focused on securing a majority, adding: "I can rule it out. We are not going to do pacts and deals with Ukip".
However, Ukip poured scorn on Shapps' insistentce that the Tories were focused on getting a majority. A spokesman told the Huffington Post UK: "I'm afraid Mr Shapps appears rather delusional if he thinks the Conservatives can win a majority."
The spokesman indicated that the party could help a Tory-led government under a confidence and supply agreement, rather than as part of an outright coalition, and dismissed the idea of the Tories and Ukip putting up candidates on a joint ticket.
"Ukip are not promising pacts with anyone but in the event of a hung parliament, which is looking increasingly likely, we would drive for a confidence and supply agreement to ensure the primary policies that we are fighting for are on the table on behalf of the British public."
Shapps also confused some when he suggested that he both supported the minimum wage and wanted it scrapped, after being asked whether he agreed with new MEP Amjad Bashir's call to scrap a range of fundamental workers' rights.
In response to the Huffington Post UK's question, Shapps said: "No, I don't agree with the minimum wage. I think it has created a basis upon which people cannot slip below, I believe in the minimum wage."
Shapps' answer was derided by Channel 4 journalist Michael Crick as "confused", as he went on to indicate that the European Social Chapter, which governs workers' rights to things like equal pay and parental leave, needed to be looked at.
"I certainly think things like the social chapter need review and I believe Britain needs much more flexibility over these things," he said.
Bashir, who left Ukip last weekend to join David Cameron's party, has listed a series of employment rights on his website as rules that he wanted to scrap as they make it "impossible to employ", including the national minimum wage, the working time directive, and holiday entitlement.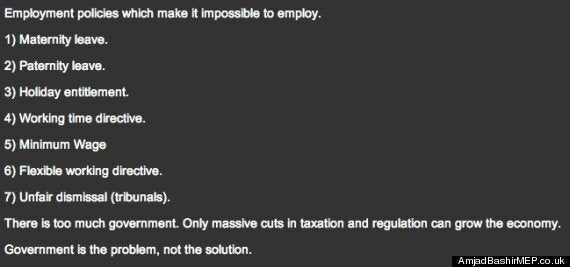 The employment rights Bashir had in his sights on his website
Shapps told reporters that Bashir's defection had been "successful", adding: "I welcome anybody, regardless of where they've been in the past… with the exception of extreme parties".
Ukip tried to take the sting out of the defection, before it was made public, by announcing that Bashir had been suspended from the party for "extremely serious" allegations, including unanswered financial and employment questions.
A senior Ukip source admitted to the Huffington Post UK that the party admitted it had "fucked up" by failing to vet Bashir sufficiently, but mused that it was "Cameron's problem now". Bashir has insisted in a TV interview that allegations levied against him are "nonsense", adding: "They [Ukip] don't want my defection to be seen as a major event."