Snow fell extremely lightly in north London and in parts of West Sussex, including at Gatwick, but officials said the airport was operating normally. Passengers were being advised to leave extra time to travel to the airport.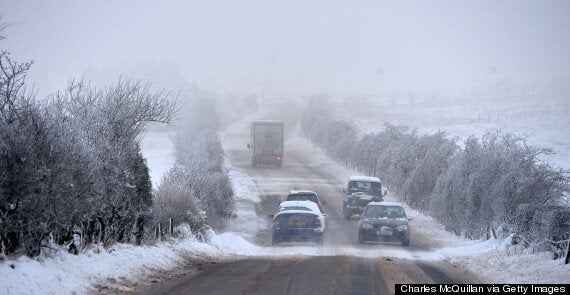 Motorists make their way over Hannahstown Hill
With temperatures remaining low overnight, forecasters have warned that ice is likely to form on road surfaces and more snow is expected on high ground, especially across Scotland.
Strong winds of up to 60mph are predicted in north-west Scotland, meaning blizzard conditions are likely, experts say.
MeteoGroup forecaster Chris Hogan said "heavy snow showers" were forecast in higher areas as a band of cold weather
moved south across England.
The Met Office's chief forecaster Eddie Carroll said: "Road surface temperatures will fall widely below freezing, leading to a risk of ice on untreated surfaces.
"This will be exacerbated by showers in places, more especially across Scotland, where 2-5cm of fresh snowfall may accumulate above 150m, with up to 10cm settling above 300m.
"Further south, a mixture of rain, sleet and wet snow is likely, with most of any settling snow taking place above about 200m. However, wet roads at low levels will contribute to the risk of ice formation."
The Met Office said sleet and snow showers would affect parts of Scotland and Northern Ireland today, with snow falling to lower levels and extending further south through the day.
Longer spells of sleet and snow are also possible, especially across the high ground of Scotland and north-east England.
Carroll added: "A very cold airmass will spread southwards across Scotland and Northern Ireland accompanied by strong winds, spreading southwards into northern England and north Wales later in the day.
"Frequent showers are likely to form in this airmass, and with the cold air snow is likely to accumulate, even to low levels in places. Periods of enhanced snowfall are possible within this general flow, perhaps more especially across the high ground of Scotland and north-east England, but these details are more uncertain.
"There is the potential for disruption throughout this period due to the accumulating snow and ice but also with temporary blizzard conditions leading to very difficult driving conditions."
Manchester Airport, which was forced to close both of its runways for several hours on Thursday, said a total of 36 flights inbound or outbound had been cancelled yesterday.
It said on its website: "We are fully open today, but as things get back to normal and aircraft get back to where they should be, passengers are advised to check with their airline for specific flight queries as some may be subject to delays."