This is what freedom looks like for Al Jazeera and ex-BBC journalist Peter Greste, who has finally been released after enduring 400 days in an Egyptian jail.
In a case that sparked international condemnation, Greste and two other journalists were kept in prison for 13 months after reporting on the violent crackdown on Islamist protests in Egypt in 2013.
After he was freed this weekend, Greste took to Twitter to post this joyful picture of himself standing in the sea, with arms outstretched making "peace" signs.
Free in Cyprus! Feels sweet. Peter back online for first time in 400+ days. Special thanks to Mike 4 nursing twitter pic.twitter.com/APATL1RljI

— Peter Greste (@PeterGreste) February 3, 2015
Australian Greste is in Cyprus with family members, after being deported from Egypt in a move approved by its president.
He will soon return home to Australia, but his colleagues Mohamed Fahmy and Baher Mohamed are still in prison and Greste has vowed he "won't rest" until they too are free.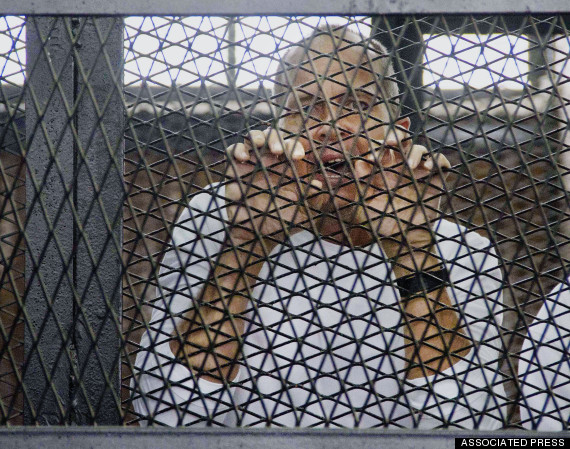 Award-winning journalist Greste in a defendants' cage in a courthouse in Cairo
His brother Mike had been running his Twitter account, but handed the reins back to the journalist with a parting "thank you" message.
1/2 This is Mike who has been running Peter's twitter account since his arrest. A truly massive thankyou to everyone who joined the campaign

— Peter Greste (@PeterGreste) February 3, 2015
2/2 Your contribution has been immense. I now gladly pass over the reins to @PeterGreste Freedom in Cypress!! pic.twitter.com/Pt35FnwkvB

— Peter Greste (@PeterGreste) February 3, 2015
Greste's mother Lois said his first meal was "beer and pork", a meal not often found in Egyptian prisons.
"I'm ecstatic. I just can't say how happy I am about it all," she said when Greste was released. "Thank goodness this is all over. To me it's also difficult to realise this day has come, even though I dreamed about it quietly, not daring to think about it too much. It's arrived now."
Brother Mike and I due to head home to Australia shortly. Can't wait for the family reunion. Keep shouting #FreeAJStaff

— Peter Greste (@PeterGreste) February 3, 2015
Greste was arrested while working for the English-language station of the Arabic language TV network Al Jazeera in Egypt in December 2013.
The 49-year-old was imprisoned six months later on charges that included "spreading false news" after he reported with others on the violent crackdown on Islamist protests following the military overthrow of Egypt's President Mohammed Morsi in 2013.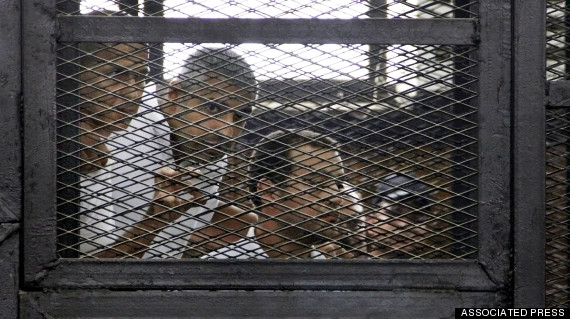 From left: Greste, Al-Jazeera Canadian-Egyptian acting bureau chief Mohamed Fahmy and Egyptian producer Baher Mohammed
In an international outcry, thousands protested against his imprisonment with two other Al Jazeera staff using the hashtag #FreeAJStaff.
Egyptian authorities accused the trio of providing a platform for Morsi's Muslim Brotherhood political group which is now declared a terrorist organisation by current government.
Human rights groups and supporters said the journalists were locked up for "nothing more than doing their jobs".
READ MORE: