George Galloway is set to appear on Question Time this week in Finchley, prompting anger from Jewish groups who regard his position on Israel as anti-Semitic.
This Thursday's edition of the panel show will take place in the north London suburb, where there is a large Jewish community.
Mr Galloway was interviewed by police under caution last year after describing Bradford, where he is an MP, as an "Israel-free" zone, during the conflict in Gaza last year.
The vocal MP, who has been a persistent critic of Israel and even walked out of a debate with a student on learning he was Israeli, was also attacked in London last year by a man who called him "an enemy of Judaism".
But Galloway's latest tweet suggests he will not hold back on Question Time and even suggested he would be on particularly aggressive form.
The attempt by Zionist extremists to wreck my appearance on @bbcquestiontime this week has gathered pace in the Daily Mail and LBC

— George Galloway (@georgegalloway) February 3, 2015
Mike Freer, MP for Finchley and Golders Green, called the BBC's decision to invite Galloway "deliberately provocative", though the broadcaster said the MP had "a right to appear on the programme" and the choice of guests was meant to "reflect a significant range of opinions".
The Community Security Trust, which monitors anti-Semitic attacks in Britain, said: "We're concerned that having it in Finchley at this time has the potential to inflame community tensions in the areas between communities who normally get on very well.
"If the BBC didn't understand the strength of feeling in the community about George Galloway, I think they understand it now."
SEE ALSO:
Gillian Merron, chief executive of the Board of Deputies of British Jews, told The Daily Mail: "The BBC certainly has questions to answer for this inflammatory and cynical decision.
"However, while some may feel it is expedient to shy away from difficult debates with hostile individuals, we look forward to the people of Finchley and Golders Green having the opportunity to call George Galloway to account for his scandalous record of provocation and division."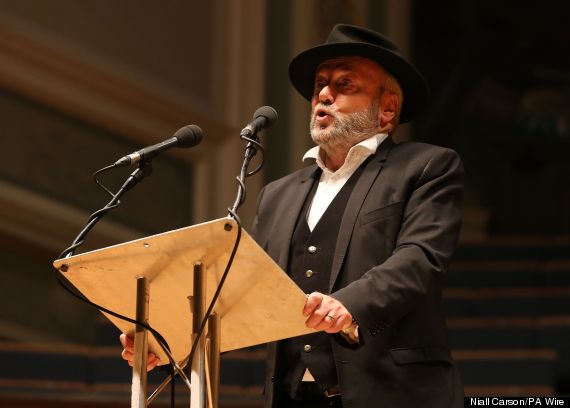 MP George Galloway said 'Zionist extremists' were trying to disrupt his appearance
A BBC spokeswoman told HuffPost UK: "Question Time invites panellists who reflect a significant range of opinions on a number of different topics.
"Whilst Mr Galloway's views are entirely his own, as an MP he has a right to appear on the programme and has done so previously.
"Subjects for discussion are chosen by our audience ahead of each show and this edition of Question Time will be no different."
Galloway will be joined by education secretary Nicky Morgan, Labour's shadow education secretary Tristram Hunt, deputy Ukip chair Suzanne Evans and The Guardian's executive editor and columnist Jonathan Freedland.