A Ukip candidate has been mocked after it emerged he paid a man from Bulgaria to deliver leaflets to would-be voters.
The matter came to light when Labour councilor Peter Wallace tweeted that he had "Just had a lovely chat with a chap from Bulgaria who is being paid to deliver leaflets for UKIP in Dover. Astonishing isn't it."
Just had a lovely chat with a chap from Bulgaria who is being paid to deliver leaflets for UKIP in Dover. Astonishing isn't it.

— Peter Wallace (@CllrPWallace) January 22, 2015
The Dover councilor had received a six-page pamphlet on behalf of local anti-EU candidate David Little.
Cllr Wallace told the MailOnline: "After the leaflet came through the door I went up to a man and asked him if he delivered it. He said he did deliver it but his English wasn't too good.
"He said in a thick accent he didn't like the leaflets but he was being paid to do it. I thought 'bloody hell' it's a Bulgarian delivering these leaflets, that's a bit weird.
@CllrPWallace got mine! Lol pic.twitter.com/j8NyhIRlSs

— Kim Clennell (@clennell68) January 22, 2015
"It's particularly weird he's Bulgarian because last year Ukip were saying 'the Bulgarians are coming, they are going to take your jobs'. But now we see that it's them who are employing them."
"Nooooooo! really!!!!," replied former MP Louise Mensch.
@CllrPWallace Noooooooo! really!!!

— Louise Mensch (@LouiseMensch) January 23, 2015
Cllr Little responded to the jibes by telling the Dover Express: "We wouldn't ask if they have got any Pakistanis, Jamaicans or people with ginger hair working for them, would we?
"We are a non-discriminatory party. I think it's absolutely fantastic Ukip is employing people and boosting the local economy. Shouldn't that be applauded?
"That young Bulgarian man has come here to make a better life for himself and he's been doing a fantastic job for us."
In 2014 a Ukip poster caused controversy when it warned that 26 million people in Europe were looking for jobs in the UK.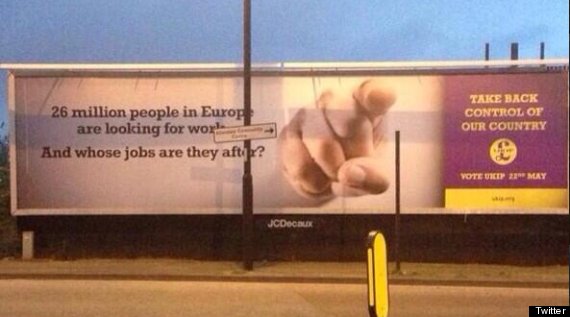 Nigel Farage had predicted the "floodgates will open" when visa restrictions were scrapped, warning there would be 5,000 Romanian and Bulgarian migrants arriving each week for several years.
Government statistics released in August revealed the total rise in the numbers of Romanian and Bulgarian nationals in the first six months of the year was just 7,000.
Migration Matters Trust director Atul Hatwal said Farage "owes the country an apology for his reckless scaremongering."
Ukip has contradicted itself before. In May it emerged the party had used a door-to-door distribution firm which employed Eastern Europeans to hand out the party's leaflets.
The party defended its decision because the firm offered "the cheapest possible price."