Shadow education secretary Tristram Hunt said a Labour government would train teachers in how to tackle homophobic bullying, and make age-appropriate sex and relationships education compulsory in primary schools.
The Daily Mail's front page article headline "Sex lessons at 5 under Labour" provoked claims the newspaper was "twisting" the story to fuel moral panic. Labour itself branded the story "ridiculous and wrong".
How the hell does plans to teach kids not to discriminate read 'Sex lessons at 5 under Labour'? Some re-write that, Daily Mail is laughable.

— Adam Bennett (@adbennoEFC) February 4, 2015
Labour said it hoped to "eradicate homophobic bullying in every classroom, playground and dinner hall" after research showed 52,000 children will will miss school this year in response to homophobic abuse.
The plans include making sex and relationships education - which is already taught to many primary school children, focusing on friendships and families - compulsory in state-run primary schools. It would widen the approach to be inclusive of Lesbian, Gay, Bisexual and Transgender (LGBT) people and families.
But The Mail's "sex lessons" story quoted Margaret Morrissey, head of parents groups Parents Out Loud, who claimed that the anti-bullying policy would "sacrifice childhood innocence for the sake of political correctness."
Morrisey told the newspaper children could "find this kind of material confusing and quite scary."
"Are we really saying that, at the age of five, children have to put their childhood behind them and learn about all the things adults have to deal with?" she added.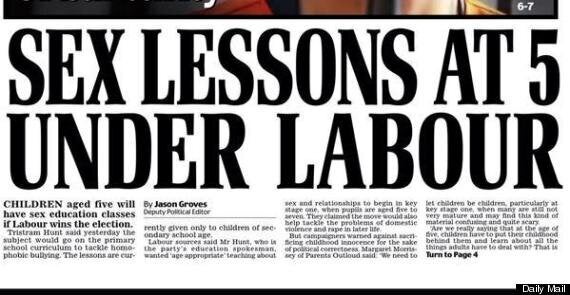 The Daily Mail's approach was "ridiculous and wrong", Labour said
Labour hit back at the Mail's write-up, saying: "The Mail story is ridiculous and wrong. Age appropriate sex and relationship education clearly doesn't mean kids having 'sex lessons' at 5."
"Good primary schools already teach their kids about respect for others and why bullying is wrong, and good secondary schools teach them about issues such as staying safe in relationships and online and consent.
"That's what age appropriate means. Our policy is to ensure all schools do what the good ones already do."
A department of education spokesperson confirmed that sex and relationships education already takes place in "many" primary schools, including for children as young as five.
Its guidance for teachers states that "all primary schools should have a sex and relationship education programme tailored to the age and the physical and emotional maturity of the children" and lessons for young children should focus on " friendship, bullying and the building of self-esteem."
Key stage one of the national curriculum - covering ages five to seven - requires that boys and girls be taught "about puberty and how a baby is born."
Sam Dick, head of campaigns for LGBT rights group Stonewall, told The Huffington Post UK: "We believe in age-appropriate teaching. We know that primary school children need to know about different sorts of families and people, and be able to be ok about the fact that they might be different themselves."
Stonewall says it visits "hundreds of primary schools, including faith schools" to teach and advise on LGBT issues. "It's all about celebrating different families, it's not about talking about sex."
Joseph Patrick McCormick, the editor of LGBT news site PinkNews, said: "This is just a typical inflammatory tabloid reaction to what is actually quite a well-thought-out policy by Labour."
"The policy aims to tackle homophobic, transphobic and biphobic bullying through LGBT-inclusive teacher training and compulsory age appropriate sex and relationship education in all state-funded schools.
"Far from 'sacrificing childhood innocence', this policy, which the Lib Dems and Greens also offer their own versions of, would help students to be better prepared to deal with a range of situations, and fill in the gaps of what has so far been an inconsistent experience of SRE [Sex and Relationships Education].
"Given that LGBT people are more likely to be affected by bullying and experience disproportionately high suicide rates, not to mention that such bullying affects all young people, not just LGBT, this policy can only be a good thing."
The Huffington Post UK contacted the Daily Mail for comment but had not received a response at time of publication.