An NHS doctor has been cleared of performing female genital mutilation (FGM) in the first British case of its kind amid claims that he was used as a "scapegoat". Dhanuson Dharmasena, 32, was accused of illegally stitching a young mother up after she gave birth - re-doing the FGM she had as a six year-old in Somalia.
But a jury acquitted him after less than half an hour of deliberations. Defence barrister Zoe Johnson QC said Dharmasena had "been hung out to dry" and forced to pay the "ultimate price" for hospital failings. His acquittal will prompt questions about why the Crown Prosecution Service (CPS) chose such a marginal case for the UK's first prosecution.
Dr Dharmasena smiled as the jury of five men and seven women delivered its verdict at London's Southwark Crown Court. His friends sat at the back of court and cheered as the verdict was read out. Hasan Mohamed, 41, was cleared of abetting the offence.
The "barbaric" practice of FGM has come under the spotlight in recent years, with Hollywood star and UN special envoy Angelina Jolie joining the international fight against it. Also known as female circumcision, it involves the removal or injuring of part of a woman's genitals for non-medical reasons. It is highly dangerous and can be fatal.
The CPS announced it was launching Britain's first prosecution last March, attracting a flurry of media reporting. But, as prosecutor Kate Bex made clear in her opening, the landmark case was a far cry from the stereotype of the "back street clinic" cutter.
Jurors heard Dr Dharmasena and his wife, also a doctor, had to put their "lives on hold" and deferred having a baby and moving home because of the trial. Some questioned why the woman, known only as AB, was thrust into the media spotlight when she did not want it.
The woman was taken to a police station early in the morning and had her fingerprints taken. Dr Dharmasena, from Ilford, Essex, told jurors he found FGM "abhorrent" and "there is no medical justification'' for it. The two-week trial heard the woman was taken to the Whittington Hospital in north London on November 24 2012.
But hospital trust failings meant she had not been placed on the FGM pathway as she should have been. Instead Dr Dharmasena, then a junior registrar, faced the "nightmarish scenario" of discovering she was circumcised as she went into emergency labour.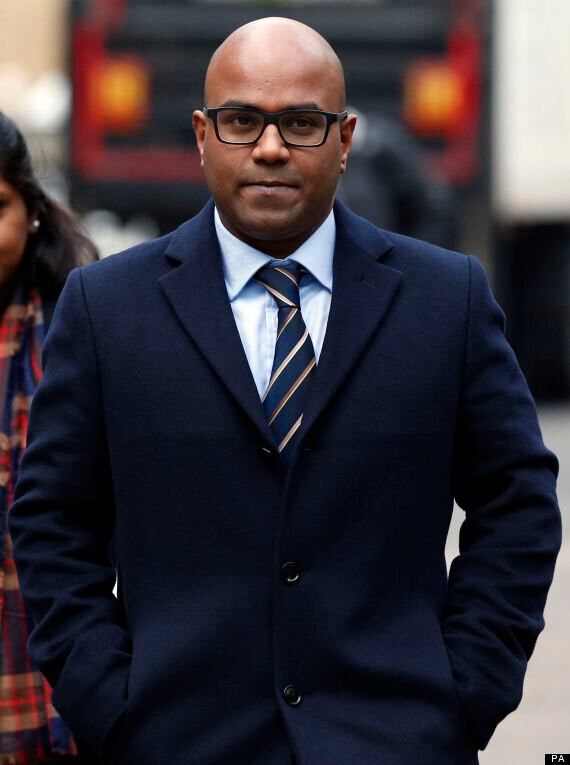 Dr Dhanuson Dharmasena as he has been found not guilty at London's Southwark Crown Court of carrying out female genital mutilation on a mother in the first British prosecution of its kind
He cut the woman open to deliver the baby, and then partially re-stitched her afterwards because she was "oozing" blood. He insisted he only carried out a single figure-of-eight stitch, which he thought was in her medical interests. But he was later told by superiors he should have sutured her on either side.
Dr Dharmasena had never treated a woman with FGM before or received any training in it. The woman went on to have another baby without any problems and is pregnant with her third child. Ms Johnson said the case had its root cause in serious and systematic failings at the hospital, but the blame was pinned on the young doctor.
Key medical notes had been torn out of a book and gone missing. She told the court: "We do suggest that Dr Dharmasena has been hung out to dry and made a scapegoat for the Whittington Hospital and their failings. You might think he has been badly let down through this long and sorry saga.
"There was a complete failure to pick up AB as someone who had suffered FGM. That failure by the midwife and hospital is at the root cause of all that has followed subsequently."
She said the hospital was guilty of "serious, systematic failings, none of which are Dr Dharmasena's fault. Yet he is the one paying the ultimate price for the hospital's ineptitude."
She added: "You may think this case an unusual case for the prosecution to bring as their very first example. Everyone accepts, not least Dr Dharmasena, that female genital mutilation is an abhorrent practice. But female genital mutilation is not going to be stopped in this country by labelling Dr Dharmasena a criminal and a mutilator of women."
Her words were echoed by Edmund Vickers, representing Mohamed. He said: "The irony may not be lost on you that the purpose of the Female Genital Mutilation Act is to protect victims of female genital mutilation. And yet this first prosecution has brought a victim of female genital mutilation into the full glare of a public trial."
Dharmasena, who moved to the UK from Sri Lanka aged four, was interviewed by police under caution in August 2013 - nearly a year later. He was suspended by the General Medical Council last March and has been working in a lab undertaking research ever since.
Mr Mohamed's lawyer, Ali Hussain, specialist criminal law solicitor at Stokoe Partnership Solicitors, said: "Following today's verdict, I am delighted that my client has been acquitted. He should not have been prosecuted and the jury's verdict confirms what he has always said - that he did nothing wrong.
"My client has suffered months of stress and the humiliation and lost precious time with his two young children. My client strongly believes this case was nothing more than a show trial - an effort by the CPS to regain some confidence after failing to bring a prosecution, despite FGM laws being in place since 1985.
"My client hopes the CPS will properly review cases in future so that innocent people do not suffer as he and his family have suffered."