An NHS doctor has been cleared of performing female genital mutilation (FGM) in the first British case of its kind amid claims that he was used as a "scapegoat".

Dhanuson Dharmasena, 32, was accused of illegally stitching a young mother up after she gave birth - re-doing the FGM she had as a six year-old in Somalia. But a jury acquitted him after less than half an hour of deliberations.

Defence barrister Zoe Johnson QC said Dharmasena had "been hung out to dry" and forced to pay the "ultimate price" for hospital failings.

His acquittal will prompt questions about why the Crown Prosecution Service (CPS) chose such a marginal case for the UK's first prosecution.

The feature story below originally ran in September 2014:
Police have blamed a lack of evidence for the failure to convict a single person in Britain for female genital mutilation (FGM), despite recent estimates that 137,000 women in the UK have undergone the procedure.
Officers are currently carrying out searches at airports in the last days of the school holidays during what is graphically known as the "cutting season," when girls are taken abroad to be mutilated, often to countries in Africa.
The brutal practice has been illegal in the UK since 1985 and the NSPCC says that 70 women a month seek treatment for the crime, but despite more FGM cases than ever being investigated, these probes aren't leading to charges or convictions, according to figures released after a freedom of information (FOI) request.
Commander Mak Chishty, who is the national police lead on fighting FGM, said that "the evidence hasn't been there" to support criminal charges for FGM, which the World Health Organisation describes as "all procedures that involve partial or total removal of the external female genitalia, or other injury to the female genital organs for non-medical reasons."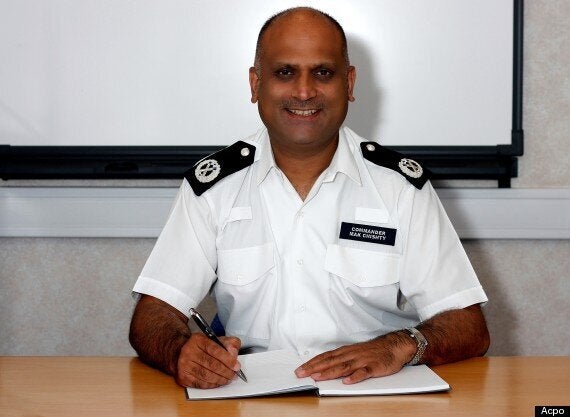 Mak Chishty says he wants to "irradicate" FGM
The Metropolitan Police even offered a £20,000 reward in 2007 to anyone giving information which led to successful prosecution - but to no avail.
"This is not through a lack of vigor or effort, it's just that the evidence hasn't been there to support the charge," Chishty said.
He told The Huffington Post UK that police have received 386 reports connected to FGM since 2009, but he suspects the number of cases was "vastly" more than this.
A significant 106 of the reports were through the police's new FGM helpline, which was set up in June 2013. A third of the helpline calls were from London.
West Midlands Police - one of the UK's largest police forces - revealed 49 FGM cases were investigated between January and June. The number is more than the total number of cases the force recorded last year.
The force revealed 41 cases were investigated in 2013, compared with 25 in 2012 and eight in 2011. Two people were arrested in 2012 but no one was charged between 2011 to June this year.
The NSPCC claims the lack of convictions highlighted the "tough challenge" facing police, while one FGM survivor said the practice remained "secretive" among communities carrying it out.
Chishty added this hindered efforts to gather evidence: "For example, if you haven't got a compliant victim, or when and where the offence occurred, or any of the complexities we need to prove beyond reasonable doubt, there can be difficulties.
"There are a lot of cultural barriers in the way of people coming forward, which we're trying to overcome through our engagement and raising awareness."
Health workers who treat mutilated girls after FGM have not always reported it to police because they may consider it "only a health issue," or may not be confident around the patient confidentially laws, although this has improved in recent years, Chishty claimed.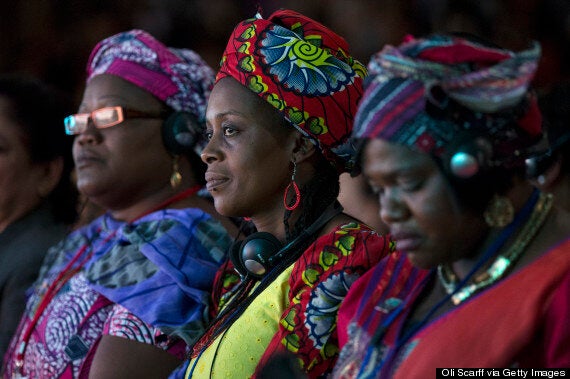 Delegates at the 'Girl Summit 2014' in July which called for an end to FGM
Fears of being accused of being racist could also hamper investigations into FGM. In the first national guidance on the issue, the College of Policing said officers should "put aside cultural sensitivities and fears of being branded racist" to investigate the crime effectively.
Chishty denied race issues were a barrier: "This is such a severe form of physical abuse, often with young victims, that we go for the protection angle. Our only aim is making sure that some young girl isn't mutilated."
He said that 14 cases have been referred by the police to the Crown Prosecution Service since 2009. The pair whose ended in January were charged, and four cases are still being considered, but the others were dropped.
The CPS was on the brink of bringing charges in a second case during the last two years, Chishty revealed, but it was abandoned because of concerns that going through a trial would be seriously harmful to the well being of the victim.
He added that arrests were not always the best approach for FGM: "If, for example we get a lady in a gynecological situation and she's been subjected to FGM, we will look at if she has any children, and ask if any younger siblings at risk, and we can intervene.
"That doesn't mean we're going to go around arresting people because, it may have been and old occurrence of FGM [in another country] where the woman has since moved to the UK."
Bringing charges is not even the central issue, in Chishty's view: "My strategy is to eradicate this barbaric practice, so by the time you get to charges it's almost too late.
"Although charges have an important place, I want it to stop altogether. The best way to get it to stop is through communities themselves dropping the practice, and they do this through heightened awareness in terms of health, and understanding that it's not religious, it's not culture, it's not superstitious."
Story continues below video
The lack of reporting means estimating the real size of the problem is difficult. Chishty admitted he had "no idea" precisely how many girls from the UK were experiencing FGM each year.
Estimates are often based on "prevalence" studies which look at the proportion of girls and women who experience FGM in countries abroad, and then apply that to the migrant populations of those groups in the UK.
In a 2007 report using this prevalence approach, the NSPCC said around 23,000 British girls under the age of 15 could be at risk of FGM every year.
The Government unveiled plans earlier this year to prosecute parents who fail to prevent their daughter being subjected to FGM.
Related