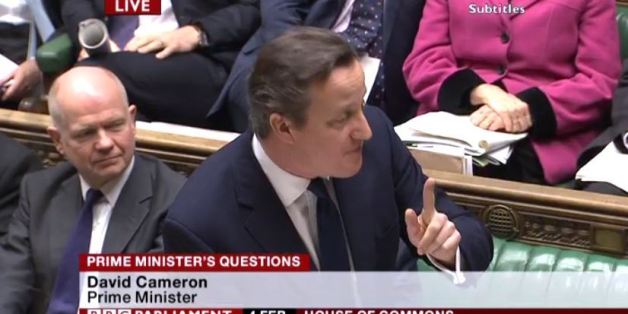 BBC Parliament
Ah, Wednesday. The point in every politico's week when we get to watch a group of overpaid middle-aged white men shouting at each other.
Here's what happened, without all the rubbish.
David Cameron cracked a half decent joke:
V good joke from PM that "Bill Somebody" is not the name of labour's business supporter, but their policy #pmqs

— Faisal Islam (@faisalislam) February 4, 2015
That bill somebody joke was the first time Cameron has told a borderline amusing joke in six months #PMQs

— Mark Ferguson (@Markfergusonuk) February 4, 2015
All the lols from @David_Cameron today #pmqs

— Binita Mehta (@BinitaMehta90) February 4, 2015
Obviously referring to Ed Balls' flop on Tuesday.
Ed Balls struggles to remember his leader's name #pmqs pic.twitter.com/G0DCFJtFSJ

— General Boles (@GeneralBoles) February 4, 2015
I think it's #PMQs today? pic.twitter.com/vLmoh7MRVy

— Ed Balls (@eddbaIlsmp) February 4, 2015
READ MORE: Ed Balls Fails To Name Pro-Labour Businessman In Car Crash Newsnight Interview
"At least I didn't leave my daughter in the pub" @edballsmp response to Cameron's Bill jibe #PMQs

— Angela Eagle (@angelaeagle) February 4, 2015
There was an argument about tax evasion:
Ed Miliband - close that tax loophole and we can have more doctors, more nurses, more care workers.. more midwives. #pmqs

— MagsNews (@MagsNews) February 4, 2015
The PM announced support for a new medal to be created for health workers:
PM recommending a new medal for NHS workers who have volunteered to help fight Ebola #PMQs

— Anna Macarthur (@MacarthurAnna) February 4, 2015
Dave joined in on the "Chuckle Brothers" banter:
Cameron: "Is it any wonder the Chuckle Brothers have ... said they don't want to be compared to the two clowns opposite?" #PMQs

— PoliticsHome (@politicshome) February 4, 2015
The Chuckle Brothers have been referenced in #pmqs Just think about that for a moment

— Graeme Demianyk (@GraemeDemianyk) February 4, 2015
@PaulChuckle2 @BazElliott only a matter of time now! pic.twitter.com/FK40QM0vkZ

— Daniel Wright (@danielmwright) February 4, 2015
As per usual, the Speaker had to tell everyone to shut up about 70 times.
Caught a bit of PMQs by accident and had a sudden rush of empathy with Guy Fawkes.

— El D (@_ceetop) February 4, 2015
An MP tried to sack David Cameron:
@SteveRotheramMP : "Take your P45 and go." David Cameron couldn't believe it... #PMQs pic.twitter.com/WejUwy5rfy

— Stanley (@StanleyIy_) February 4, 2015
Tom Blenkinsop nodded at Samantha Cameron's business after standing up to jibes of "Tory gain!":
@TomBlenkinsop asks if the PM knows of any businesses in the UK which are headquartered in Luxembourg #PMQs

— Cavendish Comms (@CavendishPC) February 4, 2015
There is a new trend among Tory MPs to shout "Tory gain" whenever certain labour MPs ask a question at #pmqs

— Andrew Sinclair (@andrewpolitics) February 4, 2015
And the most interesting bit was watching the reaction on Twitter.
Never not funny. #PMQs pic.twitter.com/jyxdbwcAzA

— Tiernan Douieb (@TiernanDouieb) February 4, 2015
Because it was largely more of the same:
'Gumption' #pmqs

— Ned Simons (@nedsimons) February 4, 2015
Today's PMQs:

Ed M: Why not tax hedge funds?

PM: Why didn't you tax hedge funds?

Ed M: Why not tax hedge funds?

PM: You're shit

February 4, 2015