Hillary Clinton lampooned Boris Johnson's political zeal during a meeting in New York on Wednesday, the former Secretary of State quipping that the London Mayor was in the US to announce a run for President.
The Press Association's Sam Lister, who has been tracking Boris across America, captured this clip of the brush-by. "I know it's your birthplace, so welcome back," Clinton said. "You're a duel."
Boris was born in New York, so is eligible to run for president. The Evening Standard's Pippa Crerar reports the former secretary of state joked as she arrived: "Is he announcing for President? Which one do you think he'll be, Democrat or Republican?"
The meeting could have been awkward, given the London mayor once said of Clinton: "She's got dyed blonde hair and pouty lips, and a steely blue stare, like a sadistic nurse in a mental hospital."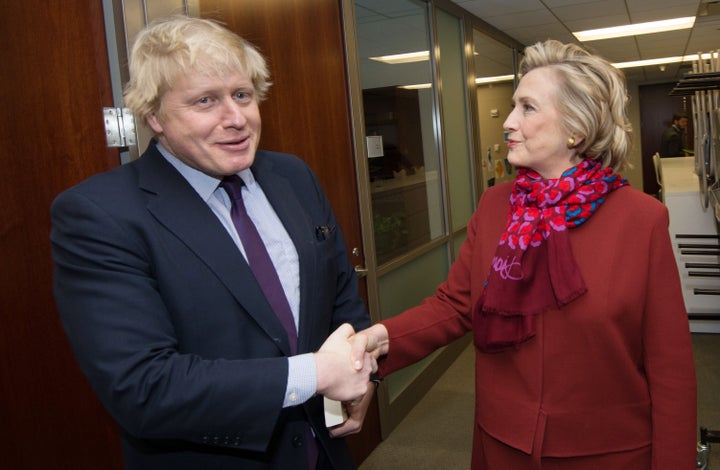 Asked about the comment by ITV News, Boris said: "I'm sure that whatever I've said in the past will be taken by the Senator who is a very distinguished politician in the light hearted spirit in which it was intended."
In London, the Mayor's visit has been lambasted by Labour MPs, who claim he is spending taxpayers' money on a "promotional tour".
Dianne Abbott, a candidate for London mayor when Boris' term expiries in 2016, revealed that Boris' US sojourn was costing the public purse £25,000. This follows a trip to Kurdistan earlier this year on which Johnson was photographed shooting an AK47 with peshmerger troops fighting the Islamic State group.
Abbott said: "We're all watching Boris tour the world. Yesterday Iraq, today the United States. It looks less like something that's been done for the benefit of London and more like a promotional tour for a future Conservative leader who is a party-time mayor. He seems to be spending most of his time – and hundreds of thousands of pounds of taxpayers' money – promoting himself."
London assembly Labour leader Len Duvall said that Johnson had "mentally checked out of City Hall".
In response, the Mayor's office said: "The Mayor's job is to promote London and drive investment and job creationism to the capital. On this trip we have already announced a raft of new investment and job creation from US tech companies seeking to locate in London.
Earlier in the day Boris was filmed racing toy cars against The Huffington Post's Arianna Huffington. It is not clear who is driving which car, but it did not look like a close contest.
Hillary Clinton in quotes: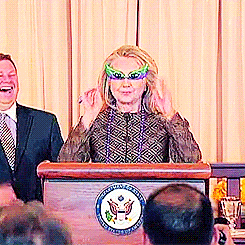 19 Perfect Quotes From Hillary Clinton
Related