Mohamed Fahmy and Baher Mohamed were imprisoned along with colleague Peter Greste for reporting on the violent crackdown on Islamist protests in Egypt in 2013.
Fahmy announced his release in one beautifully succinct tweet...
Judge Hassan Farid scheduled the next hearing or February 23.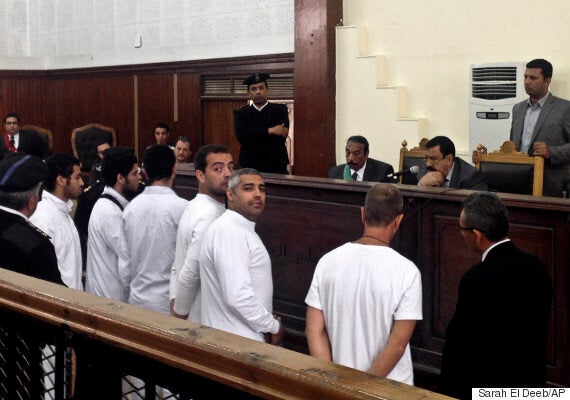 Baher Mohamed, left, Mohammed Fahmy, centre, and Peter Greste, right
The trio were arrested in December 2013 imprisoned six months later on charges that included "spreading false news" after reporting on the violent crackdown on Islamist protests following the military overthrow of Egypt's President Mohammed Morsi.
In an international outcry, thousands protested against his imprisonment with two other Al Jazeera staff using the hashtag #FreeAJStaff.
Egyptian authorities accused the trio of providing a platform for Morsi's Muslim Brotherhood political group which is now declared a terrorist organisation by current government.
Human rights groups and supporters said the journalists were locked up for "nothing more than doing their jobs".