Stonewall has announced it will now campaign for the rights of trans people, as well as lesbians, gays and bisexuals, in an unprecedented expansion of the the equality charity's remit.
The charity said it had consulted with more than 700 trans people, asking them how the charity could use its considerable influence and platform to campaign on the issue, which it had previously resisted actively doing so.
From today we will campaign for lesbian, gay, bisexual and trans equality http://t.co/SB4g1FE9Rj #TransStonewall pic.twitter.com/1wJlUbCQdG

— Stonewall (@stonewalluk) February 16, 2015
It has drawn staunch criticism in the past for its exclusion of transgender people from its activism and membership, and has seen its awards ceremonies picketed by trans-inclusion groups unhappy at Stonewall's award nominations for journalists they perceive as having made transphobic statements, including Guardian journalist Julie Bindel and Sun journalist Bill Leckie.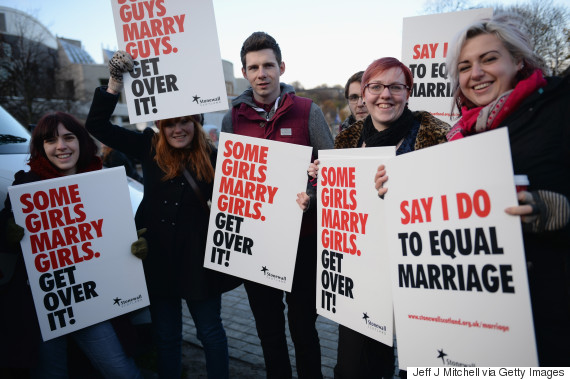 Campaigners from the Stonewall Equality Network
Stonewall said it apologised for any previous mistakes in its dealings with trans issues. In a statement today, the charity said that it plans to expand its current campaigns and programmes and recruit trans expertise to its board of trustrees and Stonewall staff. It said that it hoped to avoid any replication of the work done by existing trans charities.
Ruth Hunt, Stonewall Chief Executive said: "This change marks a significant moment in Stonewall's history. As a community we can achieve much more by standing together.
"This is an exciting but huge undertaking – we recognise that we are not instant experts, and will work closely with the trans community to achieve real change for LGBT people.
"We recognise the impact of mistakes we have made in the past. We are aware that we have missed opportunities to open up this conversation far sooner. And we apologise to trans people for the harm that we have caused."
The expansion of the charity's remit has been mooted since September 2014, when the charity met a group of 50 trans community activists to discuss how best the charity might be able to represent them.
The reaction was one of almost universal encouragement on social media:
The things that change when people talk to each other about better futures rather than awkward pasts, eh? #TransStonewall

— Christine Burns (@christineburns) February 16, 2015
The mighty forces of @stonewalluk will now be campaigning for trans equality too. This is great news! http://t.co/FGmz7cDrDS

— Dr Christian Jessen (@DoctorChristian) February 16, 2015
So impressed by @ruth_hunt leading this new direction for @stonewalluk & for having input from so many trans voices: http://t.co/uCF3CpBAtK

— Vicky Beeching (@vickybeeching) February 16, 2015
hugely positive news, thanks to @stonewalluk @ruth_hunt & 100s of trans people who engaged to make #TransStonewall http://t.co/POKFD5MGDN

— Stella Duffy (@stellduffy) February 16, 2015
Helen Belcher, of Trans Media Watch, told Gay Star News: "I'm pleased that Stonewall have acknowledged the gap that grew between them and trans communities, and welcome their next step to include trans equality in their campaigns.
"It's important that Stonewall have recognised both the necessity of working with other groups and that it will take time for them to incorporate trans-awareness properly into their structure and campaigns. I welcome the report and hope that Stonewall follow through on this encouraging position."