Church of England bishops have issued the warning that people "feel detached" from politics and calling for a "fresh moral vision of the kind of country we want to be".
Dorries, a Christian herself, described the intervention from bishops as "very definite left-wing leaning" and shows they are "very keen to dive in on political issues when actually no-one is asking it to".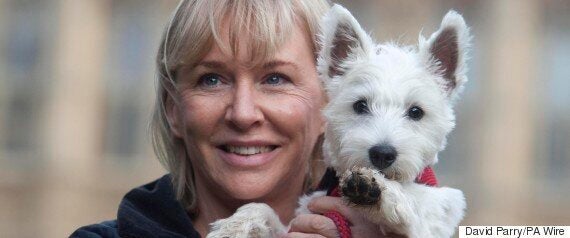 Nadine Dorries with her West Highland Terrier, Darcey
The irony of such a comment wasn't lost on some.
She also insisted the church should stick to getting involved in issues where people are "really seeking the church's voice", including on gender abortion.
The CoE has recently voiced its concerns over unemployment, poverty and the use of food banks in England.
The Bishop of Buckingham said it is a message to Christians to consider their "values and principles" as they decide which party to vote for in May.
Dorries, the MP for Mid Bedfordshire, told BBC Radio 4's Today programme: "The church is always silent when people are seeking its voice and yet seems to be very keen to dive in on political issues when actually no-one is asking it to."
Dorries, who appeared on I'm A Celebrity... Get Me Out Of Here! for £40,000 in 2013, added: "Britain endured the longest, deepest recession globally and we suffered the biggest structural deficit. Where were the bishops' voices when the last Labour government was in a spending frenzy? Where were the warnings then?
"The Bible is very clear about the immorality of leaving our children and grandchildren with debts to pay. The bishops didn't speak up then and it seems to me as though there is a very definite left-wing leaning to their message and it seems they only want to get involved in any speak when it's opportune for them to do so.
"And on equality, they've only just accepted women as equals and brought in women bishops so on their message of equality in this document which has gone out today, I think their basis or premise for having authority on this is very biased."
The Rt Rev Dr Alan Wilson told the BBC Radio 4 Today programme that the letter is about "the problem with disenchantment and cynicism that we have with professional politicians".
"It's not talking about policy, really, as much as it's talking about values and principles," he said.
"It's not about how you vote - it's about why you vote, and it's helping people to think these things through and take a fresh look at things.
"I think the Church contains all kind of people and we're not telling them how to vote - we're telling them why to vote."
The letter is the first of its kind to be released by bishops ahead of an election."
UPDATE: Dorries subsequently questioned the Huffington Post UK's coverage of this story...
So in the interest of fairness here are all of the tweets signifying agreement with her.