Chelsea Football Club has said it is prepared to ban fans who prevented a black man getting onto a train in Paris before they declared: "We're racist and that's the way we like it".
Footage posted online shows the commuter apparently trying to board a metro train in the French capital but a group of football fans are shown shouting at and gesturing to him before pushing him out of the carriage when he steps in.
On a second attempt he points to a space where he could stand but is pushed away again as he steps forward, before the group of males erupt into a chant while other commuters look on from the platform bewildered.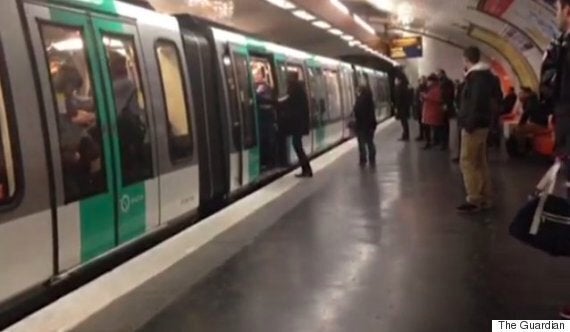 The fans push the man out of the train
The supporters are thought to have been travelling to the Parc des Princes ground for the Champions League match against Paris St Germain last night which ended in a draw.
Chelsea released a statement condemning the incident and said it will take action if members are found to be involved.
"Such behaviour is abhorrent and has no place in football or society," the club said.
"We will support any criminal action against those involved, and should evidence point to involvement of Chelsea season-ticket holders or members the club will take the strongest possible action against them, including banning orders."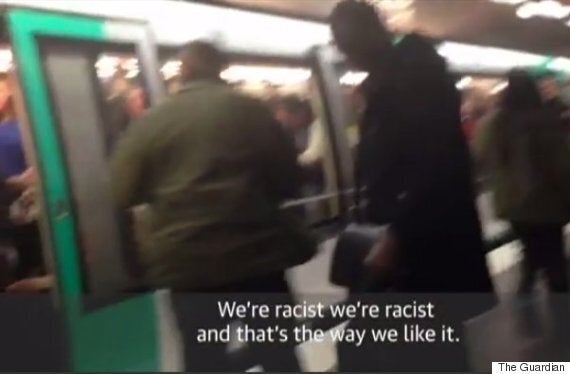 They chanted a racist song
Former England player Stan Collymore tweeted: "Chelsea fans. Save your spite for those on the train, I'm sure you'll want to see them banned from holding season tickets at your club."
Paul Nolan, a British expat who filmed the incident on his phone, said the train had been stopped for around three minutes when the man arrived on the platform and tried to get on.
Mr Nolan told The Guardian: "He was obviously completely shocked when they pushed him off. I don't think he realised who they were. He then tried to get on again and got pushed off a second time.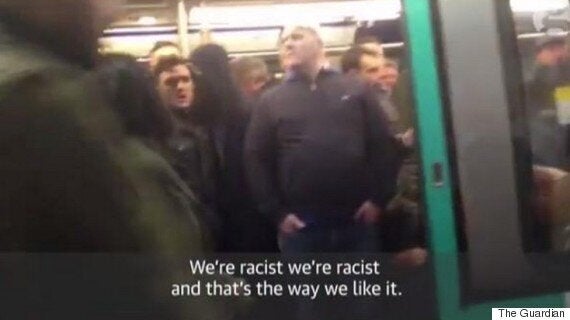 Chelsea has said it is willing to ban the fans
"I was just completely appalled by it and so that's why I tried to catch some of it on my phone, although I was a bit self-conscious as it was getting quite aggressive and I overhead one of the Chelsea fans say something about stabbing someone. I think he was referring to a Paris St Germain supporter who was on the platform."