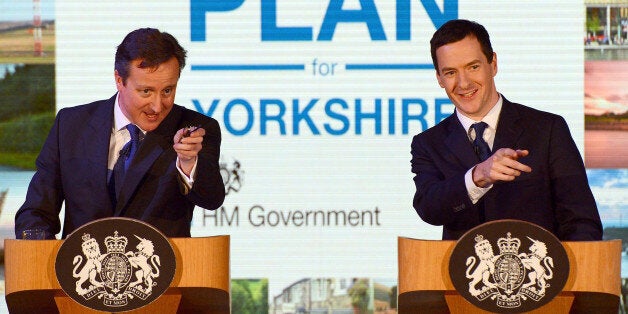 The Office for National Statistics revealed that the rate of unemployment has continued to fall, slipping by 97,000 to 1.86 million. The number of people in work increased by 103,000 over the period of October to December 2014 to hit 30.90 million.
Meanwhile, average earnings increased by 2.1% in the year to December, 0.3% higher than the previous month, in a continued sign of pay growing faster than inflation.
Tory cabinet ministers have lined up to welcome the news, with the Chancellor saying that "families are seeing the results of the long term economic plan".
Good news that unemployment down by 97,000 to 5.7% & employment up by 103,000 to 73.2%, the highest employment rate on record

— George Osborne (@George_Osborne) February 18, 2015
The Tory leader described the figures as a "key moment in our recovery", adding: 'Let's not put it at risk with Ed Miliband and Labour".
Meanwhile, Stephen Timms, Labour's shadow employment minister, said: "Today's fall in overall unemployment is welcome but five years of the Tories' failing plan has left working people £1,600 a year worse off since 2010. Low pay has left millions of working families struggling to make ends meet and has led to billions more spent on the housing benefit bill."
The latest figures come after the ONS confirmed that the rate of inflation has fallen to its lowest level on record, showing that the pressure on pay packets is easing. The Consumer Price Index (CPI) measure of inflation fell from 0.5% in December to 0.3% at the start of this year.
Jeremy Cook, chief economist at World First, said: "Wages are growing at their best level in 3½ years and inflation is at the lowest level on record; consumers are in a very good position and so are the prospects for the UK economy.
"Real wage increases, currently at the best levels in nearly seven years, represent a silver bullet for the wider UK recovery.
"All in all this is a corking jobs report; higher wages, lower unemployment mixed with lower inflation released yesterday is nothing but good news."
Howard Archer, chief UK economist at IHS Global Insight, hailed the "double dose of good news for the economy".
"It is also potentially good news for the government as the Conservatives and Liberal Democrats will both be hoping that rising real earnings growth will make people feel happier about life and more inclined to vote for them as May's general election draws ever closer," he added.
However, Chris Jones, chief executive of City & Guilds Group, warned: "It is encouraging to see so many more people in work this Christmas compared to the same time last year. But we shouldn't let this good news lull us into a false sense of security, because the figures tell us only part of the story.
"If we are seeing more people in work, why are we still seeing skills gaps in a number of different industries? And there are still disgracefully high numbers of young people out of work, with seemingly little change since the summer. This is no cause for celebration."