The group, officially registered as a political party in the constituency with the Electoral Commission, says it wants to eradicate Broadstairs, one of the towns on the Isle of Thanet, and establish a "a Zebabist state run by Boalia Law". The party, led by the 'Prophet Zebadiah', real name Robert Bealer, campaigns to ban all hetero-marriage and to lower tax for bearded families - with women and children allowed to wear fake beards.
In an effort to directly wind up Farage's party, the website address "www.ukipthanet.co.uk" redirects users to their home page, where they lay out their "divine mission to free the Afro-Thanetian Zaliphate from the grips of Broadstafarian and English hegemony".
"Renounce Your White Skin" the party adds, in a message seemingly inspired by extremist groups like Islamic State.
A video by the the Al-Zebab party
The website used to be run by Ukip until 2012, with archived pages showing that activists even used it to fume about the state of modern politics.
Ukip Thanet's website in 2012
One of them wrote an impassioned poem about "England", lamenting: "So long my old friend, your days are numbered, being brought to an end". Another post fumes about an "unelected body trying to impose Sharia Law" in Walthamstow.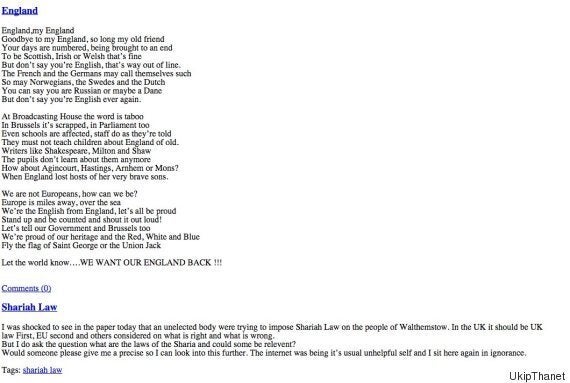 The website used to have some very Ukippy poetry...
A Ukip spokesman told the Huffington Post UK that he "laughed" on finding out that Al-Zebab had hijacked the party's old website address.
The party's leader has complained that his party posters are being ripped down and threats have been made against his life. The group has a habit of ending off its posts hailing "OOG".
Meanwhile, the group's leaflets have upset some Broadstairs residents, with at least one reportedly complaining to police about "terrorist-type" literature.
The Al-Zebab party is clearly a more extreme choice to Al Murray's FUKP (Free the United Kingdom Party). Standing in South Thanet under his "Pub Landlord" character, Murray claims to offer "common sense" solutions.
"The other parties promise a moon on a stick. We'll do better than that: A British moon on a British stick," he said in his broadcast.
Related