Winning an Oscar is the absolute pinnacle of achievement for any actor - recognition for your life's work from the most prestigious body of judges in the industry.
Which must make it all the more galling when you're nominated but don't win.
So spare a thought for the poor thespians who have missed out multiple times.
The list of the biggest losers is topped by Peter O'Toole, nominated a huge eight times and not winning it once despite his stunning roles in 'Lawrence of Arabia', 'Goodbye Mr Chips' and 'My Favourite Year'.
There was some consolation when O'Toole was given an Honorary Academy Award in 2003 - but it's not the same really, is it?
Julianne Moore has been nominated this year for her leading role in 'Still Alice' and will be hoping a win can end her dry run of four previous unsuccessful nominations.
And how on Earth can Leonardo DiCaprio - often touted as the most talented actor of his generation - still not have one under his belt?!
Criminal.
Here are the rest...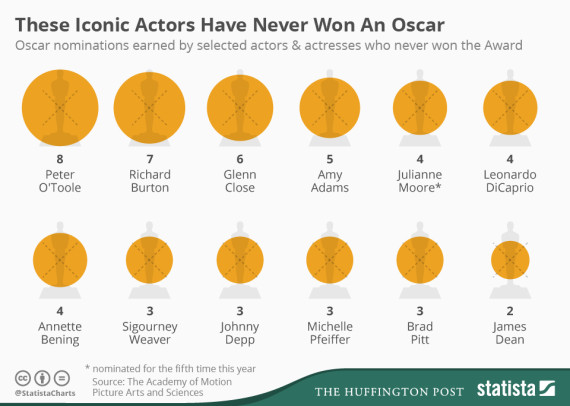 Infographic supplied by Statista
MORE OSCARS: