The racism row engulfing Chelsea fans has widened as police now say they are seeking a gang of men, believed to be Chelsea supporters, who were heard shouting racist chants at a London station.
Stickers emblazoned with "Support Chelsea Support Equality" were handed out at Stamford Bridge before today's match against Burnley. Chelsea's matchday program denounced the abuse over several pages, including a column by captain John Terry, who served a four-match Football Association ban in 2012 after being found guilty of racially abusing then-Queens Park Rangers player Anton Ferdinand in a game.
"This club stands against all forms of discrimination," Terry wrote. "Football is a sport for everyone, that is one of the main reasons why we love it."
Before kickoff against Burnley, fans of the Blues unfurled a banner reading: "Black or white we're all blue."
It is believed they were returning home after attending the Champions League one-all draw against Paris St Germain on Tuesday. Superintendent Gill Murray, of British Transport Police, said: "The racist chanting was reported by a member of the public who was disgusted by the behaviour of the men who had travelled on the 6.40pm service from Paris Gard du Nord.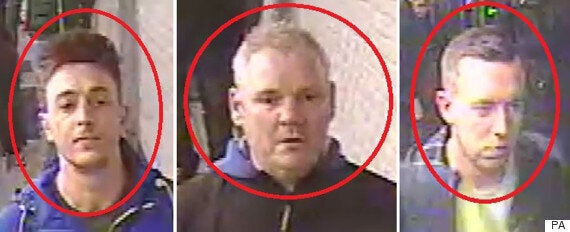 CCTV images of three Chelsea football fans they believe were involved in an allegedly racist incident on a Paris Metro train
"The men shouted as they walked through the station having alighted from the train a short time earlier.
"If you travelled on the train from Paris or were at the station and have information which can assist our investigation I would urge you to get in touch as a matter of urgency. It's clear that unfortunately there is still a minority who think it is acceptable to behave in such an abhorrent manner. There is more that needs to be done to publicly condemn this type of behaviour and British Transport Police is actively working with football clubs, the football authorities and other key agencies to tackle this appalling behaviour."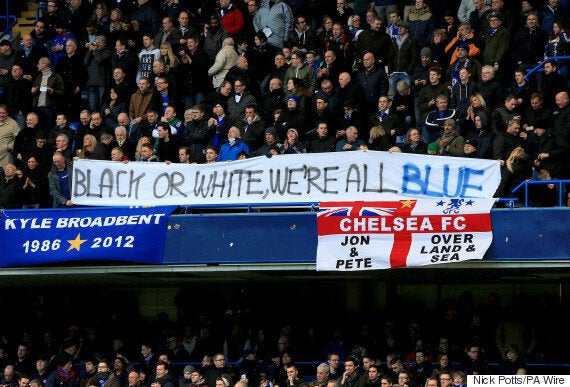 Chelsea fans hold banners and signs against racism at Stamford Bridge today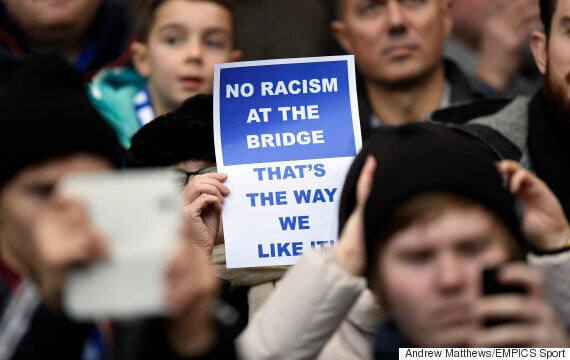 Images have been released in a bid to identify the trio, who the Metropolitan Police think were among a group of Chelsea supporters who pushed a black man off the train and chanted a racist song while on the way to the Champions League match.
The club has reiterated its promise to ban for life anyone proved to have been involved in the altercation and is helping police in the UK and Paris.
It comes as the man pushed off the train, identified only as 33-year-old Souleymane, said the incident is the club's "responsibility".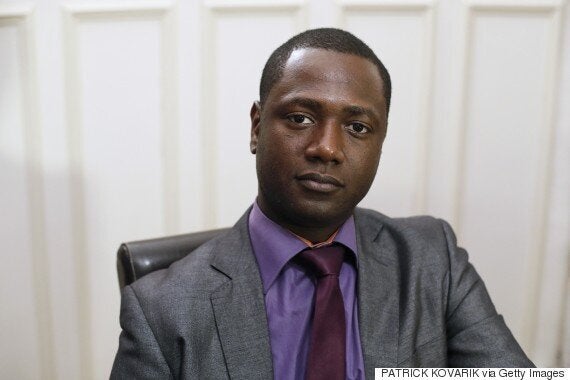 Souleymane was pushed off the train by Chelsea supporters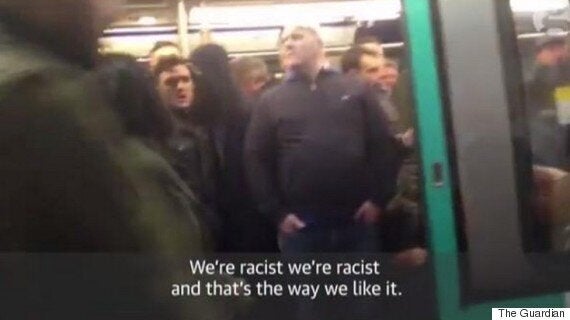 Chelsea has said it is willing to ban the fans
Speaking of his ordeal, Souleymane told BBC Radio 5 Live: "I felt truly wounded to the bottom of my heart that I really couldn't believe it.
Chelsea have said they are "appalled" and apologised to the victim, while manager Jose Mourinho said he was "ashamed" of the fans involved, and the club said it has also invited him and his family to London to attend the second leg of the European clash against PSG on March 11. A group of Chelsea fans crowd-funded £2,000 to bring Souleymane to London, but he has told French media he intends to turn down the invite.
"I appreciate Mr Mourinho's invitation, but I can't get my head around being in a stadium at the moment," he told Le Parisien.
Souleymane has now been contacted by French President Francois Hollande. The presidential palace Twitter account said Saturday that Hollande "gave him his full support following the odious racist aggression he suffered."