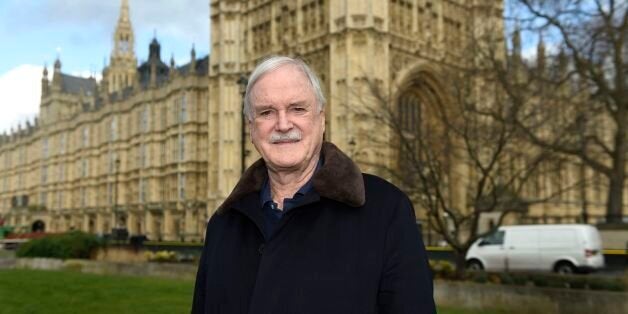 Comedian John Cleese has likened journalists arguing for self-regulation to murderers wanting to police themselves during a press reform rally.
The Monty Python star also accused Britain's newspaper editors of being cold-blooded liars who only wanted control to remain fully within the industry so they could be "free to do what they damn well like".
But tweets about Cleese's comments during the Hacked Off event in Parliament angered campaigners, leading to a terse confrontation during the meeting with the journalist who posted them.
In a video of the exchange captured by the Press Association, Hacked Off associate director Evan Harris can be heard admonishing Guido Fawkes' Alex Wickham.
"It's Alex Wickham who writes for Guido Fawkes website and also did the work on the Brooks Newmark thing. I don't want to give you a platform as you have a megaphone," he says.
Wickham was reportedly singled out by Harris for tweeting observations of the meeting as it got underway. "Well that was awkward. Room asks me to "stand, stand" to explain tweets. I do. Evan Harris: "sit down, we're not giving you a platform," he tweeted.
The issue of press regulation has yet to be fully resolved despite Lord Justice Leveson's exhaustive inquiry into the culture, practices and ethics of the press following the phone-hacking scandal. Cleese accused the press of "monstrous behaviour", which at times was "sociopathic".
"Of course they want to regulate themselves, we'd all like to regulate ourselves wouldn't we?" he told the rally. "Builders, accountants, murderers, they'd all like to regulate themselves."
He added: "The murderers would make a very good case - they'd say we murdered a lot of people, we know people who have murdered people. We really are best qualified to regulate ..."
Cleese dismissed claims that changes would muzzle the press as "crap", citing a long list of high profile figures who have publicly put their name to calls for reform.
"It's hard to tell how much of this is bare-faced cynical lying and how much is ignorance," he said. "In the case of editors, I think it's almost entirely cold-blooded lying."
Related