A 20,000-strong petition calling for a ban on wild animals in the circus has been delivered to Downing Street. Boris Johnson's father Stanley, a former MEP, and social justice campaigner Peter Tatchell appealed to the Prime Minister to take action on the promise he made last year that wild animals in circuses would be banned.
Joined by Animal Defenders International (ADI) and cross-party MPs, the group called on David Cameron to deliver on his pledge before the General Election to ensure the law is passed. Last April, the Prime Minister promised an ADI delegation headed by Tatchell and Johnson "We are going to do it" and has since committed to end what he calls an "outdated practice".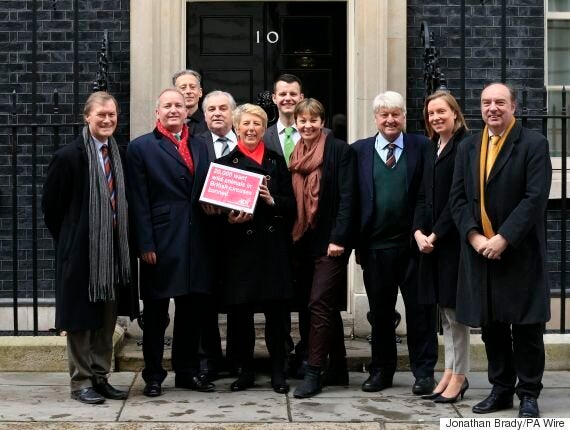 (Left to right) David Amess, Mark Pritchard, Peter Tatchell, Jim Dowd, Angela Smith, Russell Whiting, Caroline Lucas, Stanley Johnson, Tracey Crouch, and Norman Baker deliver a petition calling for a ban on the use of wild animals in the circus to 10 Downing Street, London
Stanley Johnson said on Wednesday: "On April 8 2014 we were standing here at this very place and the Prime Minister came by and said hello to me and he said: 'We are going to do it'. Since then the Government have been hiding behind a private members bill. My bete noire is this MP for Christ Church, Christopher Chope, who objected on several occasions on a technicality. I said surely you've made your point by now and meanwhile these poor animals are continuing to suffer."
ADI said little progress had been made since Cameron's pledge, prompting a bill from MP Jim Fitzpatrick to bring the Government's own draft legislation forward. Fitzpatrick has described it as "a small measure which will make a big difference to the wild animals currently performing in circuses across Britain". But the bill, which has cross-party support, has been repeatedly blocked.
Tatchell said: "I am amazed that nearly a year after speaking to the Prime Minister, nothing has happened. The vast majority of the public support a ban."
Fleur Dawes, of ADI, said the Prime Minister must act before the General Election. She said: "We are here today to call on David Cameron to keep to the promise he made and subsequent promises that the Government has made. The public overwhelmingly want a ban on wild animal in circuses. The Prime Minister has promised to act and he must before the General Election or be held responsible for the continuing suffering of wild animals in circuses."
The delegation were also joined by several MPs, including the Green Party's Caroline Lucas, who said: "It's a cause that is supported by the vast majority of people right across the country. It is incredibly important that the Government knows the pressure has not gone away."