University tuition fees will be cut to £6,000 a year if Labour wins the general election, Ed Miliband has pledged.
The new policy would be introduced in September next year, benefit those starting new courses in the autumn and those already at university, the party leader said.
He insisted that the move will be fully funded through a reduction in pension tax relief for higher earners.
Read More:
In a speech at the Leeds College of Music, Mr Miliband said that under the current system, the average graduate leaves university with more than £44,000 of debt - more than the average income.
"The scourge of debt from tuition fees is not only holding back our young people, it is a burden on our country," he told supporters, adding that the policy will "go down as one of the most expensive broken promises in history".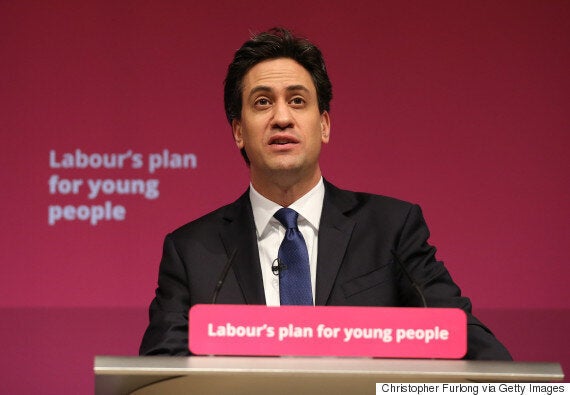 Labour leader Ed Miliband addresses students at The Leeds College of Music on February 27, 2015 in Leeds, England
"We're going to change it. We're going to reduce the debt on university students. We're going to reduce the debt on taxpayers," Mr Miliband said.
"From September of next year, the next Labour government will reduce tuition fees from £9,000 to £6,000. Meeting our obligations to the next generation.
"It will benefit those starting courses next year. It will benefit those already at university."

He claimed that the proposals will cut the burden on taxpayers by £40 billion by 2030.
The average reduction in the debt will be around £9,000 per student.
The announcement first came in a message to supporters as Mr Miliband took to the stage in Leeds.
He also unveiled plans to raise maintenance grants for the poorest students to help them with their living costs by £400 a year. This will apply to those with family incomes of up to £42,000.
Mr Miliband said: "Let me say to Britain's young people: I made you a promise on tuition fees. I will keep my promise. I don't simply want to build your faith in Labour. I want to restore your faith that change can be believed."
Earlier, Labour's widely-expected tuition fee cut was dismissed by Business Secretary Vince Cable, who described the proposals as "completely financially illiterate".
Story continues below gallery..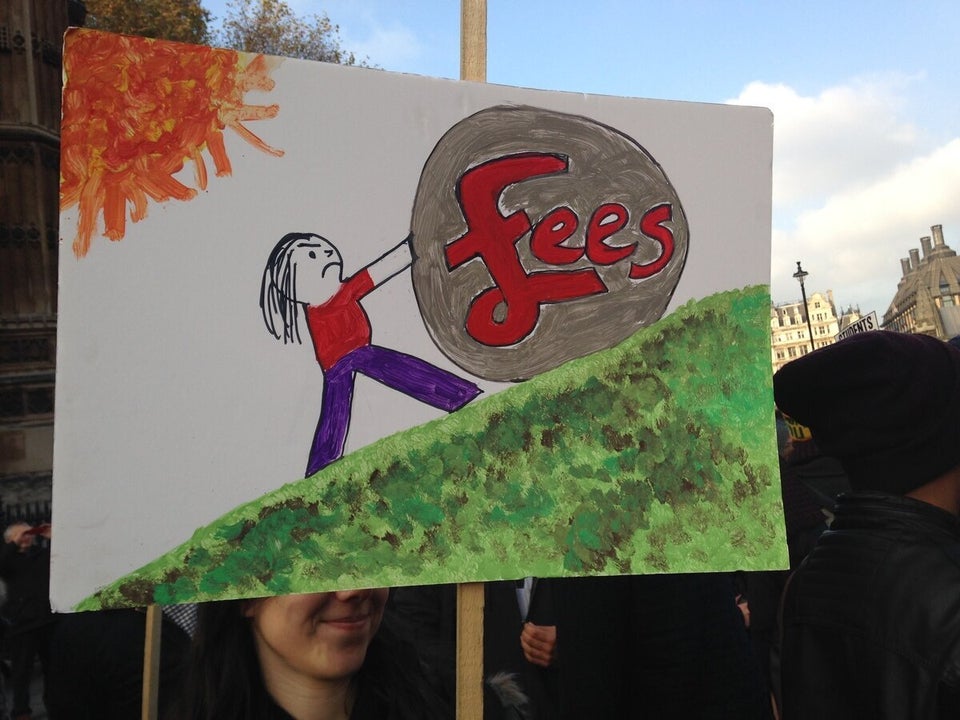 Best of the protest placards
He warned they would "do great harm to universities and create a costly black hole in the national budget".
A cut to £6,000 would "wreck the financial sustainability of universities, reduce the support for disadvantaged students and benefit only the richest", claimed the Liberal Democrat minister, who said the current system had delivered a record number of students - including from disadvantaged backgrounds - applying to university.
Conservative universities minister Greg Clark warned: "Hardworking taxpayers will pay the price for a policy that will cause chaos. It will mean more borrowing, higher taxes, and will punish people who've worked hard, saved and done the right thing - just like Labour did last time.
"As England's university vice-chancellors have warned, it would 'damage the economy, impact the quality of students' education and set back work on widening access to higher education'. It is bad for taxpayers, bad for universities and bad for students."
Universities UK has previously warned that limiting the fees to £6,000 per year would create a £10 billion funding gap over the next five years, while Labour's former business secretary Lord Mandelson has warned that any reduction in income from fees must be made good from other sources.
Mr Miliband, anxious to avoid a repeat of Nick Clegg's failure to deliver a pre-election promise on tuition fees, said Labour's policy would be a "red line" in any coalition negotiations after the election.
Asked whether the promise would be a "cast-iron" one, he said: "Yes, yes, yes."
Under the plan, graduates who earn more than £42,000 a year will pay a higher rate of interest on their loans - 4% instead of 3%.
Mr Miliband said: "We will raise the interest rate on those earning over £42,000 from 3% to 4%, which makes it a more progressive system.
"Everyone is still better off as a result of this, because of the reduction in the fee level. But it is a progressive move, and the other thing it allows us to do ... is to raise the grant."
He warned against being "complacent" over whether the current fees system had deterred people from going to university.
"I do not believe we can be complacent about access," he said. "Levels are still below where they were in 2011, the Government is not achieving the 60,000 expansion that they promised."
He added: "If you look at the top 13 universities, you are 10 times more likely to go there if you are from the top socio-economic group than from the bottom. The idea that we should be satisfied with that as a society is total nonsense."
Both Mr Miliband and shadow chancellor Ed Balls have previously advocated a graduate tax system and the Labour leader confirmed that was still being looked at for the future.
Mr Miliband said: "Ed Balls and I have both expressed an interest before in the graduate tax - that's something we continue to look at. Today we are setting out our policy for the manifesto for the next parliament, but of course that's something we will continue to look at."
University leaders welcomed Mr Miliband's assurance that the shortfall caused by the fee cut would be covered.
Professor Sir Christopher Snowden, president of vice-chancellors' group Universities UK, said: "Cutting the fees cap from £9,000 to £6,000 could create a £10 billion funding gap over the next parliament. Such a shortfall, if not met in full from other sources of public finance, could cause significant damage to the economy, to social mobility, to student choice, and to our universities. For universities, it is a funding question, not a fee question.
"Universities will welcome the assurance that the balance in funding will be made up in full and will welcome the increased support for student living costs. It will go some way to help reassure universities that a future Labour government would continue to provide a stable funding environment in the next parliament."
In a message on Twitter, David Cameron said:
Paul Johnson, director of the independent Institute for Fiscal Studies, said that Labour's plans would see a £3 billion increase in taxes on pensions to pay for £3 billion additional spending on universities. And he said that the financial benefit from the change would go to those graduates who go on to high-paid jobs.
Mr Johnson told BBC Radio 4's The World At One: "What has been announced today is a £3 billion tax increase by increasing the tax on pensions.
"There is a small help for poorer students through an increase in the maintenance grant - that would cost the Government about £200 million a year. But the £3 billion-a-year cost of the reduction in student loans actually doesn't help the poorer half of graduates.
"Half of graduates will not be earning enough to be paying back any less under the Labour Party policy than under the current policy. So the group to whom this £3 billion is going - the group who will benefit from this - are the higher-earning half of graduates.
"Those graduates who go on to the best jobs will find that their repayments go down, while those graduates who go on to less good jobs will not find any difference in the repayments they have to make."
Mr Johnson said the tax changes would make "quite a big difference" to the sums which can be put into pensions by some individuals.
"The top 1% of income tax payers will be affected most by this reduction in the rate of tax relief from 45p to 20p. That will affect not a very large number of people, but it will affect them a lot and increase the complexity around the £150,000 mark a lot," said Mr Johnson.
"Under this policy you would only be able to put £30,000 a year into a pension. That affects a relatively small number of people, but an increasing number of people - perhaps in their 40s and 50s - who are saving substantially into a pension.
"And the most you will be able to have in a pension pot is £1 million. A million pounds is enough to buy you a pension of £30,000 a year, so this is not just hitting the mega-wealthy, this will restrict people's pensions at that kind of level."
Martin Lewis, founder of the Money Saving Expert website, told The World At One that the Labour plan would "effectively mean poorer students would be subsidising City investment banking graduates".
To pay less as a result of the reduction in fees to £6,000, graduates would have to be earning the equivalent of a starting salary £35,000, going up faster than inflation over the first 30 years of their careers, he said.
"It's not the amount you borrow for university that counts, it's how much you have to repay," said Mr Lewis. "Most people will not repay in full over 30 years their £6,000 tuition loan and the maintenance loan they get on top.
"City investment bankers, City accountants and City lawyers are the people who will gain from this policy. To do that, universities will be able to give less bursaries to poorer students."
Business Secretary Vince Cable said the current university funding system "is working very well and doesn't need to be changed".
The current loan repayment system was "effectively operating like a fair form of graduate tax, where high-earning graduates earn more and those earning under £21,000 don't pay anything", he said.
While he joined Liberal Democrat leader Nick Clegg in apologising for the broken pledge to scrap fees, Mr Cable said: "I certainly don't apologise for the policy we've now got, because it's a good one, it's sustainable and it achieves our objectives."
Mr Cable said Mr Miliband's proposals were "taking his party backwards", and described them as "fraudulent".
Mr Cable told World At One: "What is fraudulent about it is that this tax on pensioners will not go to universities, it will go to the Treasury. We know from all past experience that Treasury will pocket the money, and it will be used to reduce the deficit.
"Under our current system, the money automatically goes to universities, so universities benefit directly. They would not under Labour's system. It depends entirely on the discretion of future chancellors."
Shadow business secretary Chuka Umunna denied that the announcement was a tax rise, and said the removal of pension tax relief would principally affect only the top 1% of earners, who currently enjoy 7% of the reliefs.
Mr Umunna told World At One: "It is ridiculous for Vince Cable to argue that the system he has imposed on students is either sustainable or fair."
He added: "Ed Miliband - and this was a very personal thing for him - made a promise to sort out the mess left by this Government in undergraduate financing in his conference speech in 2011, and he is determined he will keep to his promises, unlike Nick Clegg.
"There is a clear offer for students this general election. If you are starting a course in September 2016 or going into the second or third year of a course in September 2016, then you are going to see your tuition fees come down from 9k to 6k a year. That is a substantial policy difference between us and the other parties, and people - particularly young people - will of course come to their conclusions on how they are going to vote based on things like this.
"We've seen an assault on young people under this Government. They stopped the Building Schools for the Future programme when you were at school, they then took away your Education Maintenance Allowance when you went to college, and then they trebled your tuition fees. You shouldn't be doing this to a whole generation of people who are our future."
Speaking during a visit to Wales, Mr Cameron said: "This is a cobbled-together policy that shows Labour is incompetent and would lead to chaos.
"It doesn't help the people it is meant to help. It helps rich people rather than poorer people. It would damage universities and build up a mountain of debt for Britain. That is why so many experts have roundly condemned it."