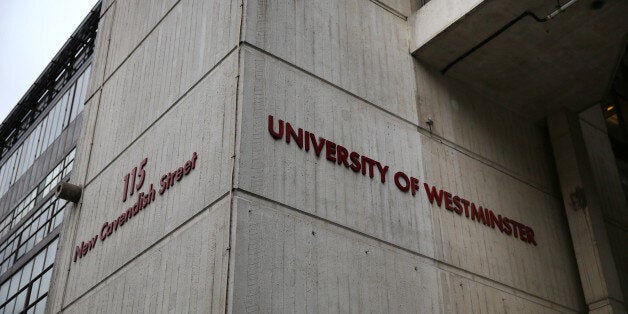 Westminster University has been accused of offering "appalling" protection to their students after two incidents on campus left Muslim undergraduates shaken.
The Huffington Post UK understands a man found his way into the university's Regent Street building on Thursday evening and shouted abuse at female students who were wearing hijabs.
One student, who wished to remain anonymous, told HuffPost UK: "The man came into the foyer and was shouting 'is this where extremists come from?' and how our halal food funds terrorism and how much he hated Muslims.
"The security guard just said the guy was drunk."
However another incident took place shortly after, leaving the female students scared to go outside.
"After the guy left another appeared and banged on the window saying: 'This is the EDL, we're here to get scum like you'."
Although the student reported it to the same security guard, she was told to ignore it as the man was drunk.
"[The guard] failed to believe me," the student continued. "He failed to acknowledge my friends and I were shaken up by what had taken place. We felt it was unsafe to leave the building in case the EDL were waiting outside.
"I have since been scared and it was very startling and appalling the university security staff failed to care about the safety of their students.
"The university should be supporting the students as that is their job. We were terrified. If the guards had called the police when the men arrived at the Regent's campus then it would have helped to solve the situation."
The student added: "It is shocking the way I was looked at while I was making my way to the station this morning because Muslims now has a negative label attached to it. I feel it it is unfair how the whole of the Muslim community at the university is being belittled due to mass media coverage, and how we are all generalised."
A student union official, who wishes not to be named, told HuffPost UK: "It is shocking that any student should have to go through anything like this. I suspect security are not briefed nor qualified to offer physical intervention, but rather to monitor that no externals are permitted on site. However this is something that is being looked into.
"I have recently seen some more physical-looking security on campus, which is presumably to ensure that students are protected."
A spokesperson from the University of Westminster said: "We are aware of an isolated incident which was promptly dealt with by the security team. The University has not received any formal complaints from its community about this.
"The safety and security of our students is our foremost concern. We have strict security measures in place at all our buildings. We encourage anyone who is concerned to contact the Student Support and Well-being team."