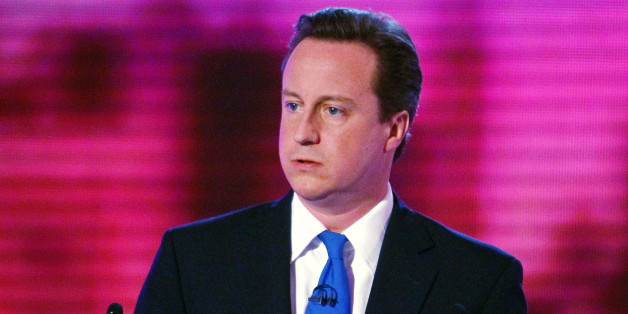 AFP via Getty Images
David Cameron has agreed to take part in just one televised debate ahead of the May 7 election -– an event that will feature all seven party leaders. In a Downing Street ultimatum delivered to broadcasters on Wednesday, the prime minister said this was his "final offer," while blaming the "chaos" of the negotiations between the political parties and BBC, ITV and Sky for the take-it-or-leave-it deal.
The offer, which stipulates the debate takes place before March 30 -– a full month before the vote -- means the prime minister has ruled out appearing in a head-to-head contest against Ed Miliband, the Labour leader recently accusing Cameron of "wriggling out" of the three debates proposed by broadcasters.
The deputy prime minister fired the following broadside on Wednesday evening:
.@David_Cameron The British public want the debates so let's get on with it. Stop holding them to ransom by trying to dictate the terms.

— Nick Clegg (@nick_clegg) March 4, 2015
Earlier on Wednesday, Miliband posted:
Time and again today David Cameron refused to give a straight answer about whether he will turn up to the head-to-head TV debate. #PMQs

— Ed Miliband (@Ed_Miliband) March 4, 2015
Others had this to say:
Not sure what to make of Cameron's latest TV debate proposal. So will consult leading expert on the issue… pic.twitter.com/WNt7y5H62Z

— Isabel Hardman (@IsabelHardman) March 4, 2015
After David Cameron's final debate "offer" the @spectator's @IsabelHardman calls PM chicken http://t.co/7R2lgACqLy pic.twitter.com/uGEnCCT6IB

— Gordon MacMillan (@gordonmacmillan) March 4, 2015
Cameron's latest terms for taking part were set out in a letter to Sue Inglish, the chair of the broadcasters' leaders' debates committee, by his director of communications Craig Oliver.
It stated: "In order to cut through this chaotic situation I am willing to make the following proposal: There should be one 90-minute debate between seven party leaders before the short campaign. As well as the Prime Minister, the leaders of the Green Party, Labour, Liberal Democrats, Plaid Cymru, SNP and Ukip should invited. The leader of the DUP should be allowed to make his case for why he should be involved. If the broadcasters cannot agree amongst themselves who hosts the debate, lots should be drawn, though the debate should be freely available to whoever wants to broadcast it.
Cameron's final offer re debates. Him and 265 other party leaders, with no cameras, mikes, audience or questions. pic.twitter.com/zJnO4WNBVP

— David Schneider (@davidschneider) March 4, 2015
The letter continued: "In order for it to be organised in time, the debate should take place during the week beginning March 23. I will make myself available to negotiate the details. Having been the editor of numerous broadcast news and current affairs programmes, I know this is ample time to organise a programme. This is our final offer, and to be clear, given the fact this has been a deeply unsatisfactory process and we are within a month of the short campaign, the Prime Minister will not be participating in more than one debate."
Deadlock over the debates prompted Sky News and Channel 4 earlier to offer to host a head-to-head clash between the prime minister and the Labour leader on a date of the politicians' choosing and Miliband went on to say he was prepared to take part "any time, any place, anywhere" in an attempt to force the premier's hand.
David Cameron said he would do the live TV debate with me if it happens earlier than planned. I will do it anytime, anyplace, anywhere.

— Ed Miliband (@Ed_Miliband) March 4, 2015
But No 10 sources said the "only real option" left was one debate because time was running out ahead of the May 7 poll, and insisted the "fairest way forward" was with at least seven party leaders. They branded the whole process a "shambles" and said broadcasters needed to "have a long hard look at themselves" over the way it had been handled. Cameron has been "crystal clear" on his position on the debates for two years since saying he wanted them to be held earlier because he believed they "sucked the life" out of the campaign last time round, the source added.
Labour sources accused the Tories of doing everything they can behind the scenes to "scupper the negotiations and sink the debates".
Douglas Alexander, who is leading Labour's general election strategy, said: "We continue to support the broadcasters' proposals, including for seven-way debates alongside a two-way debate. But this is an outrageous attempt from the Prime Minister to bully the broadcasters into dropping their proposals for a head-to-head debate between David Cameron and Ed Miliband. That it comes only hours after Ed Miliband called David Cameron's bluff and said he would debate him any time, any place, shows the lengths David Cameron will go to run scared of a debate with Ed Miliband."
After all he said about importance of TV debates 2010 @David_Cameron bottling it now is too pathetic for words. Weak weak weak

— Alastair Campbell (@campbellclaret) March 4, 2015
A Ukip spokesman said: "After praising what a good thing debates were for democracy as late as 2014, why is David Cameron now acting chicken and running as far away from them as possible?"
In a joint statement, broadcasters said: "The BBC, ITV, Channel 4 and Sky have received an email from the Prime Minister's office with a proposal. The broadcasters are committed to providing our audiences with election debates. Twenty two million people watched the debates in 2010 and we believe the debates helped people to engage with the election. The broadcasters have set out their proposals and continue to talk to all the relevant parties on an equitable basis. We will respond to the Conservatives' proposal in due course."
A Liberal Democrat spokesman said: "The public want these debates to happen and it is not right for one party to dictate their terms to try and gain an advantage. The Tories clearly do not want to discuss and debate the merits of their manifesto with the British public - it's why they don't want them to happen during the campaign - but the Liberal Democrats do. David Cameron and the Conservatives should stop thinking they can hold these debates to ransom."