Despite thousands of women showing their support for public breastfeeding in the last year, some mothers are still being made to feel uncomfortable when feeding their child outside their home.
Gemma Leung was preparing to breastfeed her eight-month-old daughter Ruby-Bow on an EasyJet flight earlier this week when a male flight attendant reportedly asked her to "put a blanket over [her] baby" because it "might offend other passengers."
The mother-of-two planned to feed her youngest child during take off to calm her down.
"No-one had complained about me feeding and there were quite a few babies on board. I was wearing a shirt, you couldn't see anything. It was so embarrassing for me," Leung told The Mirror.
"I couldn't speak I was so angry. I was just shell-shocked that this had happened in the 21st century."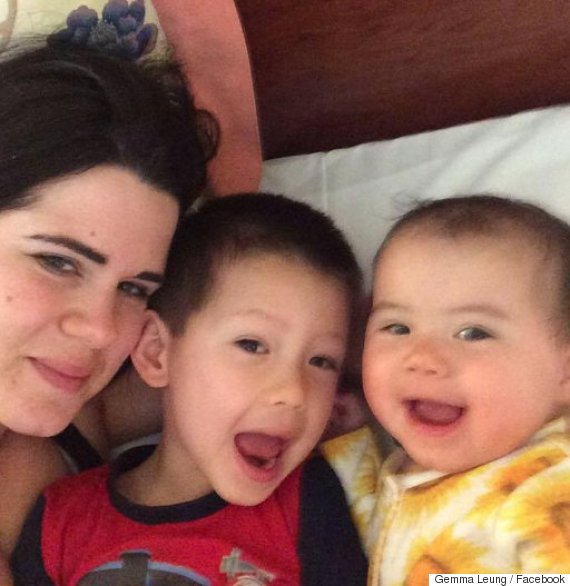 Gemma Leung with her son (centre) and daughter Ruby-Bow (right)
The incident meant the 27-year-old felt she couldn't breastfeed her child for the rest of the flight between Spain and London Gatwick.
In a statement issued to HuffPost UK Lifestyle, EasyJet said they were investigating the incident.
They added: "EasyJet is a family friendly airline. Our policy is that passengers can breastfeed at any time during the flight including during take-off and landing and we do not require mothers to cover themselves.
@We are sorry that Mrs Leung was advised to cover up when breastfeeding onboard by one of our crew members on her flight from Valencia to London Gatwick on 4 March. The crew member was immediately corrected by another member of crew who apologised to Mrs Leung.
"This does not reflect EasyJet's policy on breastfeeding which is included as part of cabin crew training.
"We try to ensure we always consider the needs of families travelling onboard EasyJet. We are now investigating with the staff involved and ensure that cabin crew are clear on our policy in relation to breastfeeding.
"As a gesture of goodwill we have offered to make a donation to a breastfeeding charity."
Unfortunately, Leung's experience echoes the one Louise Burns had in December.
Burns was asked to cover herself with a napkin while she breastfed her child in Claridge's Hotel.
The incident led to public outrage, with dozens of women staging a mass nurse-in outside the hotel to show their support for public breastfeeding.
Prime Minister David Cameron came forward to say it is "totally unacceptable" for mothers to be made to feel uncomfortable when feeding their babies in public.
But sadly, it seems some people still haven't got the message.
SEE ALSO:

#Brelfies: Mums Take Breastfeeding Selfies In Protest Of Facebook's Nudity Rules

Victoria's Secret Model Doutzen Kroes's Beautiful Breastfeeding Photo