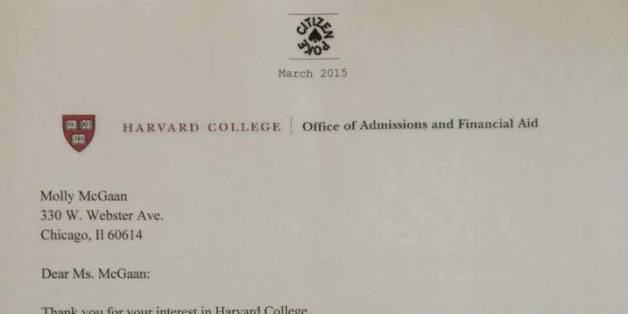 Facebook/Imgur
When Molly McGaan wrote a fake rejection letter from Harvard College for her school's satire magazine, she simply wanted to "turn something sad into something funny".
Little did she realise it would be uploaded to the magazine's Facebook page and go viral.
The letter informed McGaan: "We are unable to offer admission to every student, regardless of their proficiency in "dank memes" or their level of "$wagg moneyyyy.".. For future reference, it is not wise to start an essay with the words, "listen here u little slanks" and end with "McGaan out *drops mic*"."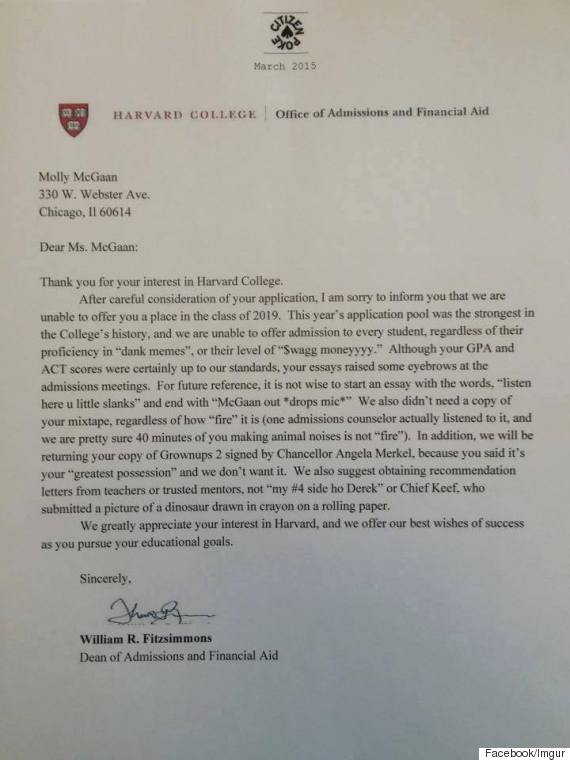 The letter in full, via Imgur.
Now, the teenager is rather concerned about what's going to happen to the real application letter she sent to Harvard, if they catch wind of the prank.
OKAY BUT I ACTUALLY APPLIED TO HARVARD WHAT IF THEY SEE THIS AND GET MAD AT ME

— Molly Alice McGaan (@mollymcgaan) March 4, 2015
This is really scary omg

— Molly Alice McGaan (@mollymcgaan) March 4, 2015
Guys! THE LETTER IS FAKE! I wrote it for my school humor magazine called citizen poke!

— Molly Alice McGaan (@mollymcgaan) March 5, 2015
Speaking to the Boston Globe, the teen said she was inspired to write the letter after being rejected from Michigan University.
"People legitimately think it's real, which is so bizarre to me. It's just so insane.
"I have no clue what this is going to do to my Harvard [application]."
I can't tell which is funnier: If I end up getting rejected from Harvard, or if I end up getting accepted. Stay tuned.

— Molly Alice McGaan (@mollymcgaan) March 5, 2015