Ed Miliband has called David Cameron "chicken" for his insistence there be just one TV leaders' debate before the election, as Labour confirmed he would take part in all three proposed debates.
Campaign chairman Douglas Alexander confirmed in a letter to broadcasters that Miliband was prepared to appear, even though Cameron appears unlikely to take part.
The "chicken" insult had already occured to Ukip. A spokesman for the eurosceptics told The Independent: "After praising what a good thing debates were for democracy as late as 2014, why is David Cameron now acting chicken and running as far away from them as possible?"
The four broadcasters - the BBC, ITV, Sky and Channel 4 - announced they will stick to their previously-announced plans for three debates during the election campaign, and urged the Prime Minister to "reconsider" his refusal to take part in these shows, including a head-to-head one with Miliband.
Cameron's chief spin doctor Craig Oliver said their response was "disappointing" and restated the Prime Minister's "final position" was for a single debate to take place in the week starting March 23.
In a speech to his party's Scottish conference on Saturday, Miliband will say: "Today the Labour Party has written to the broadcasters saying with or without David Cameron, I will be at the debates.
"And every day up to these debates he (Cameron) will be asked: what are you hiding from?"
Miliband is expected to use his conference speech to accuse Mr Cameron of "duplicity" and of trying to "chicken out" of the debates.
He will say: "This is what David Cameron used to say about TV election debates: that they were essential to our democracy. That every country apart from Mongolia had them.
"That he wasn't going to have any feeble excuses to get out of debates. And now he is doing everything he can to stop them.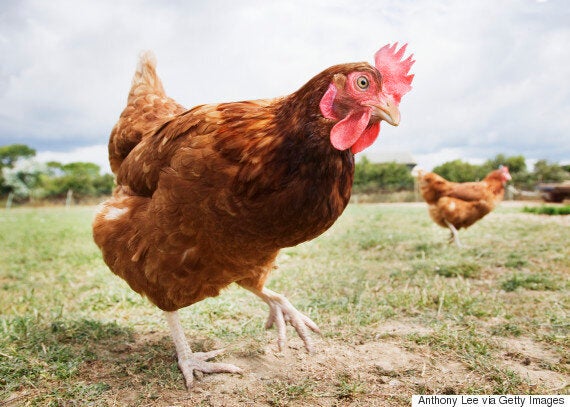 The debate about the televised debate has been a huge boost for the stock chicken image industry
"And it is on the issue of leadership debates that David Cameron's duplicity has caught up with him.
"He says this election is all about leadership, all about the choice between him and me, and when it comes to a debate between him and me, he's running scared.
"He's running away. I say to David Cameron: You can refuse to face the public, but you can't deny your record. You can try to chicken out of the debates, but don't ever again claim that you provide strong leadership.
"You can try to escape the people's debates, but you can't escape the people's verdict."
He will add: "When all people will see is an empty chair, his claims of leadership will be exposed as empty."
In his letter to the broadcasters, Alexander said: "Like you, we hope that David Cameron and the Conservative party will take this opportunity to conclude that these debates are in the public interest and that not showing up will not just be damaging to the Conservative party but to our democracy as well."
The broadcasters said they would stick to plans for a seven-way debate involving Cameron, Miliband, Nick Clegg and the leaders of the Greens, Ukip, Scottish National Party and Plaid Cymru on ITV on April 2, followed by a second show on BBC featuring the same line-up on April 16.
A final one-on-one clash between the Tory and Labour leaders would be broadcast on Sky News and Channel 4 on April 30 - exactly a week before the May 7 election.
In a letter to Mr Oliver, the broadcasters made clear they were ready to go ahead with the debates even if Cameron decides not to take part - effectively "empty-chairing" the Prime Minister.
But Mr Oliver replied: "I made the prime minister's final position clear in my last letter - he is willing to do a seven-way debate in the week beginning March 23.
"Clearly it is disappointing that you are not prepared to take him up on that offer. I am ready to discuss at your convenience the logistics of making the debate we have suggested happen."
With neither side in the stand-off backing down, the debates are set to go ahead without Cameron's participation.