An Indonesian sports company that printed washing clothes was a woman's job in a football shirt has made a bizarre attempt to defend itself.
In the shirts of Indonesian Premier League team Pusamania Borneo, Salvo Sports printed the phrase: "Washing instructions: Give this shirt to a woman. It's her job."
It was branded as sexist on social media.
The company's apology was made on Sunday, as the world celebrated women's achievements on International Women's Day.
In a series of tweets, the company defended it, saying it did not mean to denigrate women but only wanted to ensure the shirts were well looked after by women who are "more capable" at weashing clothes.
"The message is simply, instead of washing it in the wrong way, you might as well give it to a lady because they are more capable," Salvo Sports posted on Twitter.
"There is no intention to humiliate women. In contrast [we want to tell the men] learn from women how to take care of clothes.
"Not all men understand/know how to take care of their own clothes, women are more knowledgeable/experts on such matters. We apologise profusely for any misinterpretations."
On Sunday, the Asian Football Confederation launched its first Women's Football Day, which promoted the events its member associations were doing to promote women's football.
Today, around 600 women staged a march in Indonesia's capital, Jakarta, calling on the country to pass a bill that would protect domestic workers.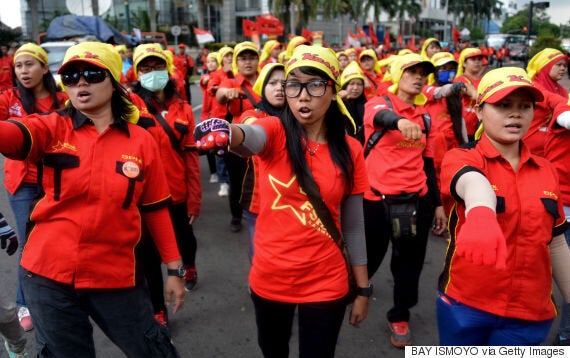 Women march in Jakarta on International Women's Day
Police literature also recommended they be single when they join and not marry until they have served for several years.