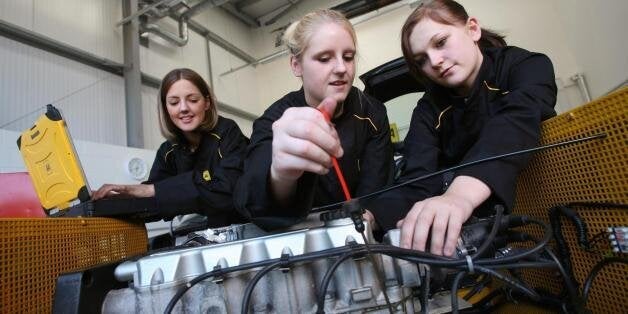 Parents were twice as likely to advise boys to take up an apprenticeship than girls, with only one female in 10 seeing an apprenticeship as a viable option, a study by British Gas has showed.
A survey of 2,000 teenagers found that half of girls, and almost as many boys, said they had received "unhelpful" careers advice.
Engineering apprentice Natalie Foster said she was "a little apprehensive" going into such a male-dominated industry, and is the only woman in her class.
"The whole experience has been very liberating, as back in school I remember being steered away from the science and technology subjects because I was a girl," she said. "I think times have changed since then and people have realised that there's absolutely no reason why women can't do technical jobs.
"Personally, I love to see women on television or in the media in very practical roles and I'd love to inspire young women not to be afraid to follow their passions, even if it takes them into a traditionally male-dominated field."
Claire Miles, managing director for at British Gas, added: "It's clear from this research that apprenticeships are still regarded as something of a man's world among young people. That's behind the times. Despite the rising popularity of apprenticeships, we're disappointed that more girls aren't benefiting from this career option."
The news came as thousands of new apprenticeships are being announced amid fresh evidence of their benefits to firms and warnings of skills shortages in the energy industry.
Companies across the country marked the start of National Apprenticeship Week with a series of training announcements, while the Government stressed the "vital contribution" they make to the economy.
A report by the Centre for Economics and Business Research said consumers preferred to deal with businesses employing apprentices, which it estimated was worth billions of pounds.
A typical apprentice delivers productivity gains of more than £10,000 a year, and double that in industries including construction and engineering, according to the study.
Business Secretary Vince Cable, who will meet scores of employers at an event in London, said: "In launching National Apprenticeship Week we are celebrating the 2.1 million apprenticeship starts since 2010 and the positive impact they are having on businesses around the country.
"The benefits of apprenticeships are clear - they make a vital contribution to the economy, boost business productivity and give people the skills they need to get on in the world of work.
"As this research shows, there has been an important shift in the attitudes towards apprenticeships with businesses, consumers, and young people recognising the significant opportunities they can offer."
Energy firm SSE warned that half the sector's workforce was expected to retire by 2023, so more than 200,000 people will have to be recruited.
Director of human resources John Stewart said the company was boosting its apprenticeship numbers by a fifth, and investing more than £11 million in a recruitment and training programme.
"Research we've carried out tells us for every £1 we spend on our apprenticeship programme, the net economic impact on society is £4.29," he said.
London Mayor Boris Johnson will confirm plans for a new scheme that will create thousands of apprenticeships in the capital - while firms including Siemens, EE, Prudential and Kwik Fit announced new placements.
Teachers will spend a day at Nestle factories in areas including York as part of a company drive to boost apprenticeships and highlight what businesses are looking for in new recruits.
The Co-operative Food is offering a 10% discount on groceries at 2,800 stores to apprentices.
Labour's London Assembly economic spokeswoman Fiona Twycross said: "Boris Johnson has a vast mountain to climb if he is going to come anywhere near delivering the quarter of a million apprenticeships he promised Londoners by 2016.
"Even with those apprenticeships which are being created, almost half of them are going to people over 25 years old and already in work. Whilst it's important to support people to develop their careers, this approach leaves the apprenticeship programme utterly failing young people."
A spokesman for the mayor of London said: "Over 40,000 people now start an apprenticeship every year in London, which is more than double the number starting four years ago.
"The nearly-190,000 apprentices that have begun work in London since 2010 would view the mayor's championing of apprenticeships as a success, not a failure."
Popular in the Community