The album can boast some of the hottest producers around among its contributors, including Avicii, Diplo, Ryan Tedder and Kanye West, however the promotion of the album hasn't been without its hitches.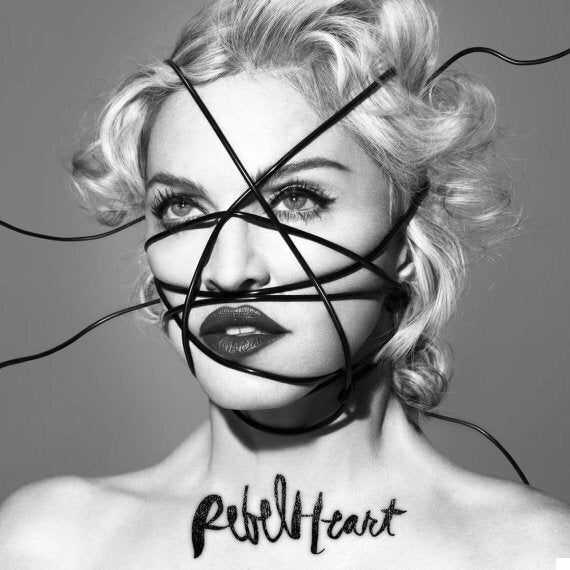 Luckily for the Queen of Pop, now that her new album is out, the reviews have been (largely) positive, and here's a selection of what some of them have had to say about 'Rebel Heart'...
"Madonna's 13th studio outing can feel like a confused bag sonically as she continues to experiment with a host of modern music's finest. But ultimately, when she's wearing her heart on her sleeve, Rebel Heart is some of her most captivating work in years." (Digital Spy)
"If any confirmation were required of Madonna's sustained cultural relevance, it was surely provided by a mere wardrobe malfunction out-shining the combined micro-celebrity wattage of the entire Brit Awards line-up.

"It's fortunate, then, that this ironic triumph should be followed by confirmation of her musical relevance. Rebel Heart capitalises on the comeback charm of 2012's MDNA, and in places repeats aspects of its success."(The Independent)
"One of the strangest things about Rebel Heart is how subtle it seems by current standards. These songs unfold slowly, building through foreplay-like intros before hooks are displayed over a shifting series of textures, as if the tracks were being remixed while you're listening to them. In a short-attention-span world of hits that relentlessly spotlight mini-hook after mini-hook for club DJs to drop in a few bars at a time, they seem positively luxurious and downright intellectual." (Billboard)
"Ultimately, 'Rebel Heart' feels like a wasted opportunity. Trite self-empowerment anthem 'Iconic' informs us that there's only two letters difference between Icon and I Can't. Sadly, there are also two letters between class and ass."(NME)
"More credibly than any previous work, Madonna's latest pulls back the curtain on her life, letting us see her hurt and yearning. While a decent portion of harder, bitchier odes do turn up, the album as a whole presents the softest, most sincere portrait of the star we've ever had. In the process, "Rebel Heart" coheres, offering a swift rebuke to whoever prematurely dribbled out its tracks in a dizzying variety of leaks." (New York Daily News)
"Rebel Heart is Madonna's best album since 2005's Confessions On A Dancefloor, probably because she is at her most relaxed and natural.

"Playing to her strengths while using modern tricks, it is an eclectic mix of dance, pop, reggae and balladry."(Daily Mail)
"Both sonically and philosophically, the album is all over the place. The opener, lead single "Living for Love," has a big sexy disco underbelly and just enough Diplo glitch to give it some edge.

"Then there's the rocksteady dub "Unapologetic Bitch," the post-Yeezus robo-grind "Illuminati," the electro-campfire sing-along "Joan of Arc." All that style whiplash can be vertigo-inducing. And yet despite the idea overload, I like way more here than I expected to." (Entertainment Weekly)
"The album presents two faces, neither of which are designed to stand alone: the #1 Baddest Bitch out for sex and blood ("the Rebel") and the vulnerable veteran reflecting on love, life, and difficult choices ("the Heart").

"And while the songs in the former group are great fun, because nobody can poke fun at Madonna like Madonna — the repeated snarl of "Bitch, get off my pole" on the lurid "Holy Water" is funnier than every Twitter joke about her tumble at the BRIT Awards put together — the latter ones are the true stunners."(TIME)
"Rebel Heart is long because it is essentially two separate albums. One is wistful and thick with reflections on failed love affairs and intimations of self-doubt... The other offers dirty talk and defiant I'm-still-here snarls set to EDM-inspired productions, frequently the handiwork of Diplo.

"There's obviously no reason why an album can't contain both. But on Rebel Heart, the two don't quite gel, perhaps because you get the sneaking feeling that the former might represent the music Madonna wants to make, while the latter is the music she feels obliged to make, in order to compete with whoever the big new female pop star is." (The Guardian)
"The Madonna who snarls "Get off my pole" over sleazy electro-pop in "Holy Water", channelling both her own hit "Vogue" and the preposterous erotic thriller Showgirls, is vastly preferable to the Madonna maundering about being "scarred and bruised" in dull ballad "Hold Tight". We want the cape and the attitude: more rebel, less heart. Leave vulnerability to the little people." (Financial Times)
'Rebel Heart' is out now.