Foreign Secretary Philip Hammond hit out at "apologists" for Islamist terrorism who tried to blame Britain's intelligence agencies for radicalising Mohammed Emwazi, the man believed to be Islamic State (IS) executioner Jihadi John.
His comments appear to be directed at critics like Asim Qureshi of the campaign group, Cage, who said that it was MI5's attempts to recruit Emwazi, as an informer that led to him becoming radicalised.
In a rare speech on the intelligence agencies, Hammond defended their work, saying that it was only their "brilliance" that had kept Britain safe.
He condemned critics who try to "excuse" the terrorists by pointing the finger of blame and the agencies.
"We are absolutely clear; the responsibility for acts of terror rests with those who commit them. But a huge burden of responsibility also lies with those who act as apologists for them," he said.
The agencies have also faced criticism over the fact that Emwazi was allowed to travel to Syria - where is believed to have carried out the brutal beheadings of a series of western hostages - even though he had be known to MI5 since 2008.
Speaking at the Royal United Services Institute in London, Mr Hammond - who is responsible for MI6 and GCHQ - said that agencies are currently facing an "unprecedented" level of challenge in the face of a wide range threats from around the world.
"The sheer number and range of cases, old and new, amounts to the greatest challenge to our collective security for decades and places unprecedented demands on those charged with keeping us safe," he added.
He said that while in the past they had simply had to focus on "ideologically-driven expansionist states" they now had to deal with international terrorist groups and state-sponsored aggression as well as self-radicalised, "lone wolf" terrorists.
"The emergence of groups such as Boko Haram in Nigeria and (IS) in Syria, Iraq and Libya, simply serves to underline the pace with which the threats to our safety and security from this source are evolving," he said.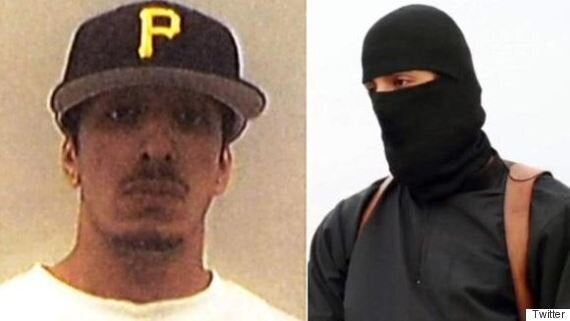 Mohammed Emwazi before he joined IS (left) and as he appeared in IS videos (right)
"It is only thanks to the dedication, and in many cases the brilliance, of our intelligence officers that we have succeeded to detect and contain these threats."
In the speech, he also discussed the war in Ukraine and accused Russia of "destabilising" the country.
"We are now faced with a Russian leader bent not on joining the international rules-based system which keeps the peace between nations, but on subverting it," he said.
"President (Vladimir) Putin's actions - illegally annexing Crimea and now using Russian troops to destabilise eastern Ukraine - fundamentally undermine the security of sovereign nations in Eastern Europe."
Hammond said that the "clandestine nature" of the threats- from weapons systems developed in secret to covert plotting by terrorists - underlined the need for Britain to maintain a "highly effective, secret capability" to identify, monitor and act against them.
"As the range of threats gets bigger, so the pace of technological change with which the agencies must keep up is getting faster, making their central task of keeping us safe ever more demanding," he added.
"We must respond decisively and positively to the public and parliamentary debate about the powers required by our intelligence agencies to do their job in a changed technological environment - and in doing so draw a line under that debate so that the agencies can get on with the job of keeping this country safe."