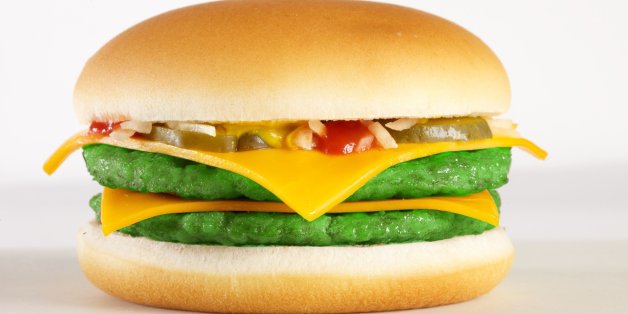 McDonald's/Huffington Post UK
Continuing its trend of trying to evolve with the times, McDonald's has announced plans to start including kale in some of its recipes.
The fast food giant has noticed dwindling support among young customers who are favouring healthier options on the high street, so this may be an attempt to draw in the hipster crowd.
"Possibilities include kale for use in salads, or perhaps a kale smoothie," wrote Janney Capital Markets analysts in a note to clients. "More generally, McDonald's clearly aims to raise consumers' perception of the quality of its food. Adding kale to the menu in some way could help be a step in this direction."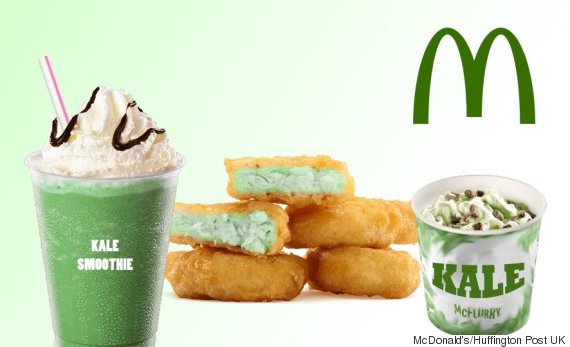 A HuffPost artist's rendition of what a Kale-based McMenu might look like
Kale is the current superfood-of-the-moment due to its high vitamin content, its cholesterol lowering properties, and many other health benefits. But this adoption by a faceless fast food chain may see foodie-hipsters ditch the green for something a little cooler.
LEARN: What's So Great About Kale?
The menu update was leaked from internal notes from the company's "turnaround summit" in Las Vegas, so McDonald's refused to comment on the matter.
"We're always looking at new and different ingredients that customers may enjoy," spokeswoman Lisa McComb said.
According to WXYZ, McDonald's plans to bring in kale in the "not-to-distant" future, in the USA at least.
SEE ALSO:

News Reporter Caught Going To McDonald's Drive-Thru Live On Air

McDonald's To Phase Out Antibiotics In Chicken Amid Resistance Fears