A woman was reportedly "dragged under a train" at a Photo gallery See Gallery
" target="_hplink">busy London Tube station, prompting complaints of dangerous overcrowding on the platforms.
The woman fell between a moving train and the platform during rush hour and was rushed to hospital. Fireman had to pull her out of the gap by "jacking up the train" according to one observer.
Clapham South station closed. Commuters exiting say they were stuck underground for over an hour. pic.twitter.com/Pnjv7vb90q

— Bríd Stenson (@bridstenson) March 12, 2015
@LAU4A A woman was dragged under the tube at Clapham South. I saw firemen trying to get her out. They have to jack up the train.

— cristina squires (@newsgirlc5news) March 12, 2015
The woman was taken to hospital with injuries that weren't life threatening, London Underground said.
Nigel Holness, LU Operations Director, said: "Just before 8am this morning (Thursday 12 March) a passenger fell between the train and tracks at Clapham South station. The passenger was recovered by the emergency services with non-life-threatening injuries. We are investigating the incident to understand exactly what happened."
We're just pleased to hear that the woman who was dragged under the train at #claphamsouth earlier is okay. 🙏

— iheartclapham (@iheartclapham) March 12, 2015
Many people who use Clapham South station tweeted about regular overcrowding at the south London station.
How can @TfL deny overcrowding at Clapham this morning? It's a never ending problem that must be fixed..! #Justsaying #claphamsouth

— Jodie Maguire (@ItsJodieMaguire) March 12, 2015
Anyone who commutes on that line knows that this was an accident waiting to happen #claphamsouth @TfL

— Laura W (@LAU4A) March 12, 2015
Feel so sorry for the poor lady trapped under the tube at #ClaphamSouth. Being pushed under a tube is my ultimate phobia. #LondonProblems

— Georgie Jones (@GeorgieJones2) March 12, 2015
Poor woman pushed/dragged under #NorthernLine train at #ClaphamSouth. Maybe @TfL will start addressing the overcrowding now?!

— Abi Kasipillai (@Abi_Kas) March 12, 2015
Hope the poor girl at #claphamsouth is ok after accidentally falling infront of a tube. That platform is dangerously overcrowded every day 😔

— Vikki Bertram (@vikki_bertram) March 12, 2015
A spokesperson for TfL told The Huffington Post UK: "Overcrowding didn't play a part in this morning's incident."
Nigel Holness, London Underground Operations Director, said in his statement: "The safety of customers and staff is our top priority and we do all we can to ensure customers can travel safely at all times. Thankfully incidents of this nature are extremely rare on our network and the Tube is one of the safest railways in the world. This follows heavy investment in safety improvements, and we are constantly seeking to further improve our excellent safety record."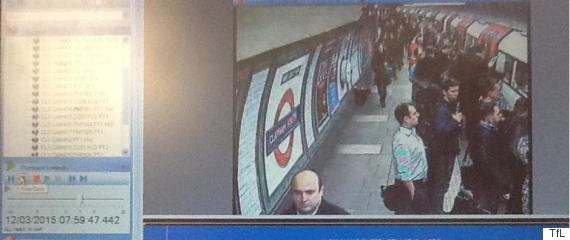 A screengrab taken by TfL of the platform moments before the woman fell under the train
The incident follows an Oxford Circus Tube station crush that led to scuffles in the streets, and astounding scenes of commuters forced to vault over and crawl under ticket barriers at London Bridge station.